Zabal is a member of the Simon Pirates. He is the doctor of the crew.
Appearance
Edit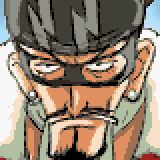 Zabal is an average sized middle-aged man, with a black goatee, black glasses and a black beanie, with two white sparks on it. He wears an open red coat, with a big white collar, and two white surrounded in black spark at each side of the zipper. Under the coat, he seems to wear a red unique suite, with a zipper in the front. He also wears two long scarfs, a white one around his neck and a blue one on his left shoulder, brown open gloves, two narrow brown belts around his legs, and polished dark red shoes.

Personality
Edit
Out of the Simon pirates members, Zabal is usually the most calm, sensible and silent member, shown by his rigid demeanor.
Abilities and Powers
Edit
As Zabal is equipped with a sword, it is implied that he does have some knowledge regarding swordsmanship.
This is an empty section. Please help the wiki by adding information to it.
Site Navigation
Edit