Whole Cake Island is an island in the New World that is under the control of Big Mom, one of the Yonko, as her crew's base of operations,[1] being the central island in the 35-island archipelago known as Totto Land (Big Mom's main territory).[2] It owns its name to its resemblance to a collection of birthday cakes.
The island owes its name to its resemblance to frosted cakes, and the buildings appear to be covered in what looks like icing. There are candle-like poles on the top the island that are lit on fire, making the island reminiscent of a birthday cake. The interiors of the buildings also look as if they are made of icing. The sky above the island is sometimes covered by unique purplish and pinkish clouds.[1] The island also has a special weather phenomenon of edible cotton candy snow, perhaps stemming from those clouds.[3]
A large amount of the island is populated by Big Mom's allies as well as a wide assortment of anthropomorphic singing objects. The animated objects seem to have a habit of repeating their noun name by way of singing or saying it in a melodic fashion. Even living objects with a specific name use the noun and not their actual name.[2]
The island's shores, at least some, are covered in hardened whipped cream.[4]
Cities and Landmarks
Edit
Sweet City
Edit
Sweet City (スイートシティ, Suīto Shiti?) is the capital of Whole Cake Island. Its structures are made of edible substances, and Big Mom's castle, Whole Cake Chateau,[5] is located here. However, some of the town was destroyed when Big Mom started eating it during one of her cravings.[6]
Landmarks
Edit
The Seducing Woods
Edit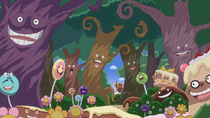 The Seducing Woods (誘惑の森, Yūwaku no Mori?) are located on the southwestern coast of Whole Cake Island. Consistent with the theme of the island, the forest is inhabited by living scenery and edible surroundings. It has a river of melon juice flowing though it, and also contains a variety of preternatural phenomena; these include illusions, mirror versions of single individuals, most often visitors themselves, being created by the Charlotte Family's 8th daughter, Charlotte Brûlée,[7] as well as tampering with magnetic fields, talking and clothed animals, and living, moving trees, flowers, and other plants, as well as living confectionary like lollipops sticking out of the ground, just like the many other anthropomorphic objects and beings living on the island. The sentient scenery has a sense of maliciousness, as there are skeletons of past wanderers, and the trees made it to block off the exit routes, regarding it as a "Game of Death". It was visited by the Sanji retrieval team when they first disembarked on Whole Cake Island.[8]
Whole Cake Chateau
Edit
Whole Cake Chateau (ホールケーキ城(シャトー), Hōru Kēki Shatō?)[5] is the massive castle of Big Mom, and by far the largest cake building found in Sweet City.[9] It is situated roughly centrally on the island.
Lake Aprico
Edit
Lake Aprico (アプリコッ湖, Apurikokko?) is a large lake right behind Whole Cake Chateau, which runs into the ocean. Right at the entrance to its port are two Tartes, and only Big Mom's associate crews (and those that are in the process of becoming so) are granted acess to the port. Lake Aprico is the current main location of the ocean-going Germa Kingdom. As its name suggests, it may be composed of apricot juice.[10]
Fishman Island Arc
Edit
Big Mom, while preparing for a tea party, received a report from Pekoms and Tamago that Fishman Island had failed to provide its requisite amount of sweets for her. However, she then conversed with Monkey D. Luffy, who ate the sweets, and decided to transfer her grudge to him instead.[1]
Totto Land Arc
Edit
Big Mom and her subordinates made preparations for her upcoming tea party, in which her 35th daughter Charlotte Purin would marry Sanji in order to form an alliance with the Vinsmoke Family. Big Mom had her subordinates go out to other islands and murder people in order to steal ingredients for their cake.[2]
Later, Linlin enters one of her cravings, specifically for croquembrouche, and rampaged in Sweet City, causing considerable damage and casualties even among her own castle and her sixteenth son. She only quells down when Jinbe feeds her the demanded sweet.[6]
When the Sanji retrieval team disembarked onto the island, they separated into two groups: Pedro and Brook went off to make a copy of Big Mom's Road Poneglyph, while Luffy, Nami, Tony Tony Chopper and Carrot went for Sanji, entering the Seducing Woods and becoming confounded by Charlotte Brulee and the woods' ever-shifting scenery.[8]
Meanwhile, the Germa Kingdom is shown assembling in Lake Aprico, in preparation for their prince's upcoming wedding.[11]
References
Edit
↑ 1.0 1.1 1.2 1.3 One Piece Manga and Anime — Vol. 66 Chapter 651 and Episode 571, Whole Cake Island makes its first appearance.
↑ 2.0 2.1 2.2 One Piece Manga — Vol. 82 Chapter 827 (p. 5), Pekoms explains the layout of Totto Land.
↑ One Piece Manga — Vol. 82 Chapter 824 (p. 16), Big Mom's ship enters the waters surrounding Whole Cake Island, while cotton candy snow falls from the sky.
↑ One Piece Manga — Chapter 831 (p. 4), Sanji retrieval team dock at Whole Cake Island
↑ 5.0 5.1 One Piece Manga — Chapter 832 (p. 11)
↑ 6.0 6.1 One Piece Manga — Chapter 829 (p. 8-11), Linlin goes on a rampage in Sweet City.
↑ One Piece Manga — Chapter 832 (p. 10)
↑ 8.0 8.1 One Piece Manga — Chapter 831 (p. 5-17), Sanji retrieval team enter The Seducing Woods
↑ One Piece Manga — Chapter 830 (p. 15-16), Pedro says that Big Mom's castle is the island's largest building.
↑ One Piece Manga — Chapter 832 (p. 11-12)
↑ One Piece Manga — Chapter 832, The Germa Kingdom first appears.