Volume 90 is titled "The Holy Land Mary Geoise".
Cover and Volume Illustration
Edit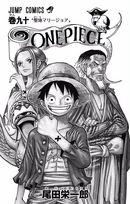 The cover is maroon, the title logo is yellow, and the author's name is written in gold. The cover features the Empty Throne in the far background, and Nefertari Cobra, Rob Lucci, Hattori, Sabo, Rebecca, Mansherry, Monkey D. Garp, Karoo, Nefertari Vivi, Leo, Bartholomew Kuma, Jewelry Bonney, Wapol, and Shirahoshi in a circle around Luffy's bounty image.

Author's Note
Edit
SBS Notes
Edit
How Big Mom chose her husbands is revealed.
Several characters have been confirmed to be members of the Charlotte Family, with their position in the family and their ages revealed.
Sabo's appearance at the ages 40 and 60 in this reality and in one where "things went bad".
Gerth's age is revealed. It is also revealed that she was the girl who befriended Linlin when she arrived at the Sheep's House.
Charlotte Mont-d'Or and Opera's Devil Fruits are revealed to be the Buku Buku no Mi and Kuri Kuri no Mi.
Possible children of Crocodile, Mihawk and Doflamingo are shown.
Volume Changes
Edit
This, Volume 1, Volume 12, and Volume 61 are the only volumes that contain an entire story arc, with this volume containing the Levely Arc.
After Chapter 904, instead of an SBS, there are several recap pages about Levely participants and key figures. The featured characters are Koby, Helmeppo, Charlos, Sterry, Rob Lucci, Kaku, Wapol, Kureha, Dalton, Nefertari Vivi, Nefertari Cobra, Shirahoshi, Neptune, Otohime, Gol D. Roger, Shanks, and Monkey D. Luffy.
References
Edit
↑ One Piece Volume 90: (Japanese) Shueisha - Amazon U.S.