Volume 88 is titled "Lion".
Cover and Volume Illustration
Edit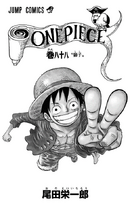 The outside cover is purple, the title logo is orange, red and transparent, and the author's name is written in orange. In the top center of the cover is Carrot's Sulong's form in a red-orange hue in the foreground of the full moon. In the center, and going in a clockwise rotation is, Nami, Chopper, Pudding, Brook, Capone Bege, Jinbe, Charlotte Chiffon, Vinsmoke Sanji, Carrot, and Monkey D. Luffy with him breaking a mirror.

Author's Note
Edit
SBS Notes
Edit
Volume Changes
Edit
Magazine Version

Volume Version

Explanation
Chapter 881, page 17
Correction: Katakuri's glove added.
Chapter 884, page 3
Change: 捕える changed to 捕らえる
Chapter 885, page 10
Correction: Inked in the peanut's mouth.
Chapter 885, page 11
Change: 離せ changed to 放せ
Chapter 885, page 12
Correction: kanji added.
Chapter 886, page 19
Correction: Rayleigh's glasses are added.
Chapter 889, page 8
Correction: PM removed from 24-hour time.
Chapter 889, page 16-17
Correction: Jinbe's scar added.
References
Edit
↑ 1.0 1.1 1.2 One Piece Volume 88: (Japanese) Shueisha - Amazon U.S. - Amazon U.K.