Welcome To The LEAST FAVORITE CHARACTER TOURNAMENT- Where you vote for the people that really irritate you.....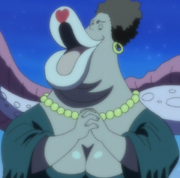 I am going to make a list of contender lets get to about 32 bad characters and the
we will have a tournament
. I am going to start off and add-
Spandam
Mr. 7
Mohji
Nami
S***
Maria Napole
Demalo Black
Perona
Lily
Sarquiss
Bellamy
Kuro
Hannibal
St. Charloss
Chopper
Sadi
Comment more names and we will have some FUN!
Anything that you suggest will be put on the list!!!!!!!
http://onepiece.wikia.com/wiki/User_blog:Tuckyd/LFCT_Round_2