Hi guys! Other then an user here, I'm also an admin on the Italian Wiki of One Piece, and I was thinking on requesting a spotlight. But it's hard to choose an image! So I thought if someone of you is kind enough to share some ideas! Remember that a spotlight image has a fixed dimension of 255 x 123px, so a nice picture like this:
Will become something like this: (plus a semi-transparent caption)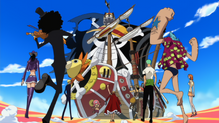 Then close-up or image with few small details are the best. I remember a spotlight of my wiki with a close-up on Roger's face on the execution platform with the caption: "Have you what it takes for becoming the Pirate king?", for example.
I thought of looking for something post-timeskip with a caption like "Are you ready for the New World?". Well if you have any thoughts on this, tell me! Of course this could be also a suggestion for a spotlight for this wiki, though it's already pretty popular!
Of course only the idea is enough, I will look for the image myself (and edit it if necessary).
By the way you can see spotlight samples on the bottom of your browser! Thank you!
leviathan_89 21:27, 16 October, 2011 (UTC)
UPDATE: I think I'll go with this one, with the black caption should become something like this.