Welcome, one and all! After a lengthy preproduction, the OP Wiki Hunger Games are finally upon us! First off, I present to you, our roster! Did Harambe end up making the cut after all?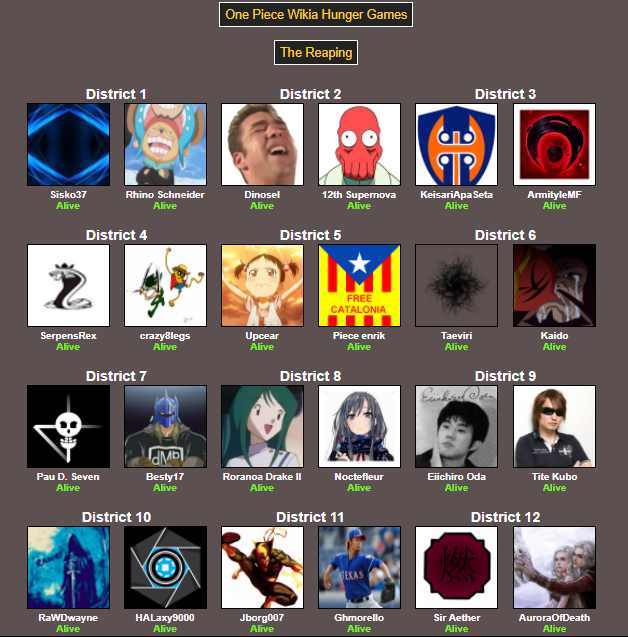 May the evens be ever in your favor...
The Bloodbath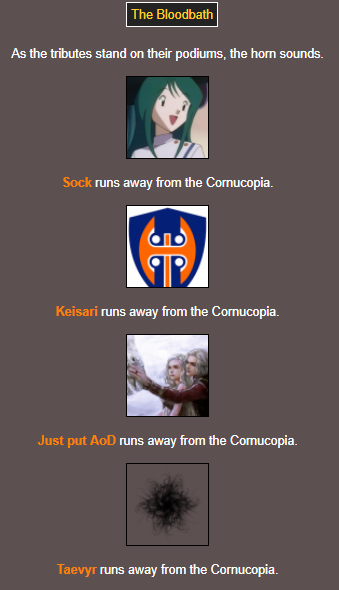 STOP RUNNING YOU'RE SUPPOSED TO KILL EACH OTHER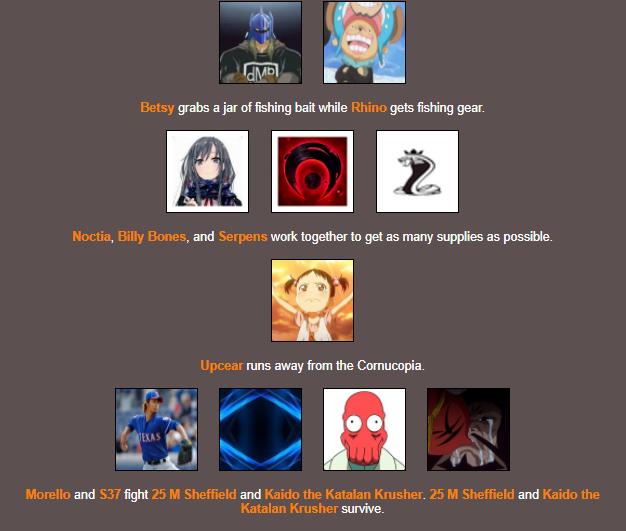 Now that's more like it!
I don't know what sais are...
Ooh, multiple broken noses here. Odacchi is getting down and dirty, that's what I like to see.
Day 1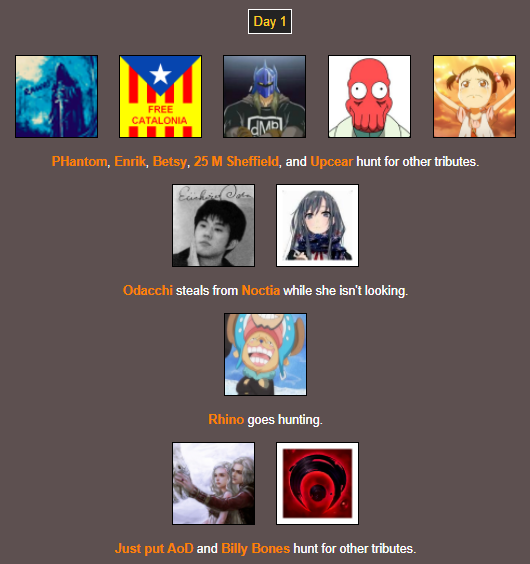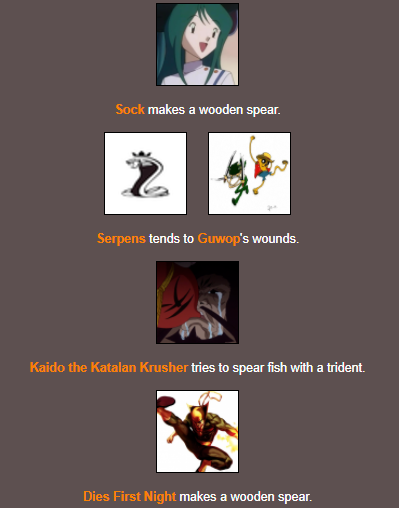 The Fallen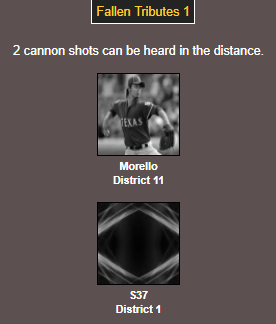 The Status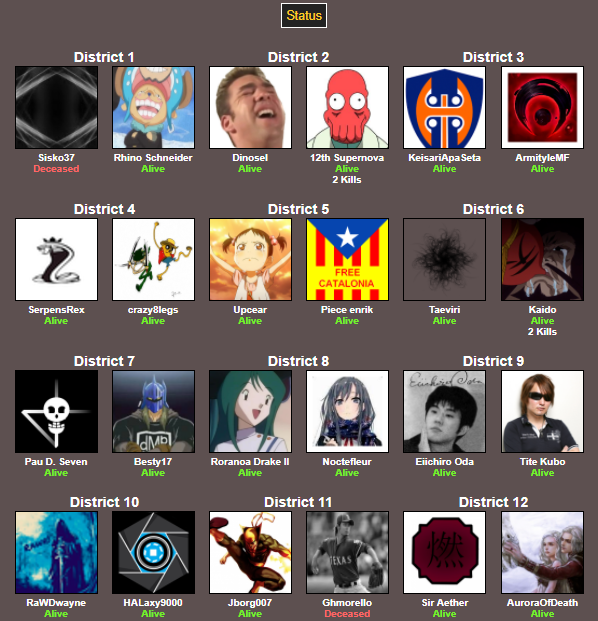 I've turned on the extra high kill count, so hopefully we'll see more deaths come tonight...
Night 1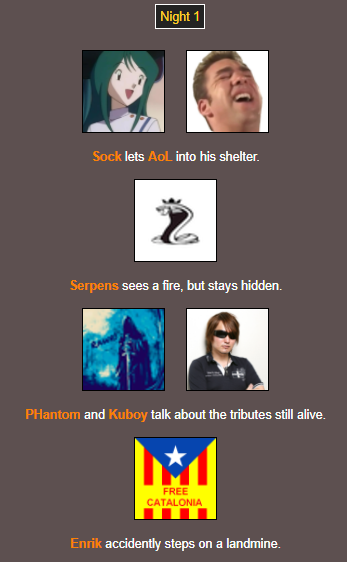 ¡VIVA LA REVOLUCION!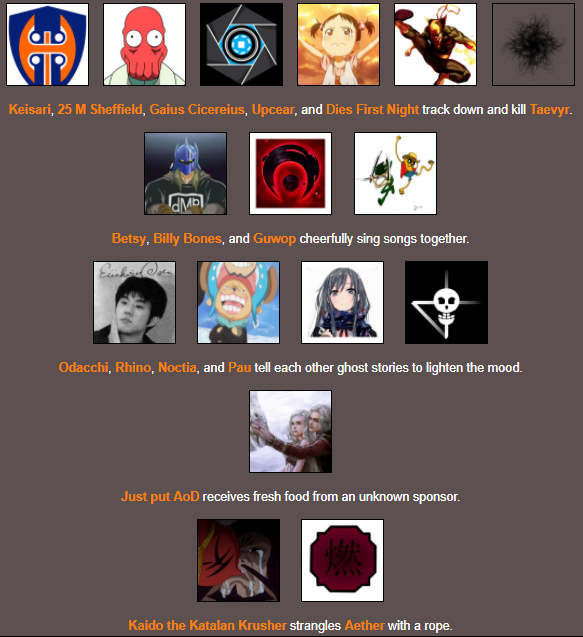 Whoa, why all this excessive force on my partner? Well, at least I got revenge, somewhat. ¡Viva la noche!
Day 2
Wait, how do bots sprain their ankle?
I think we have a death problem here if Dies First Night manages to escape...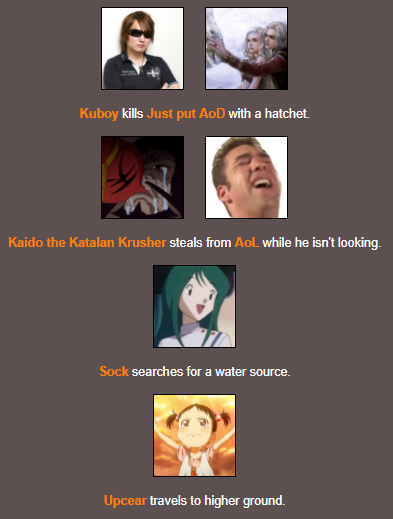 Eyy Kubo has a good idea for once! Poor Auroras
Ripperoni in Pepperoni
Status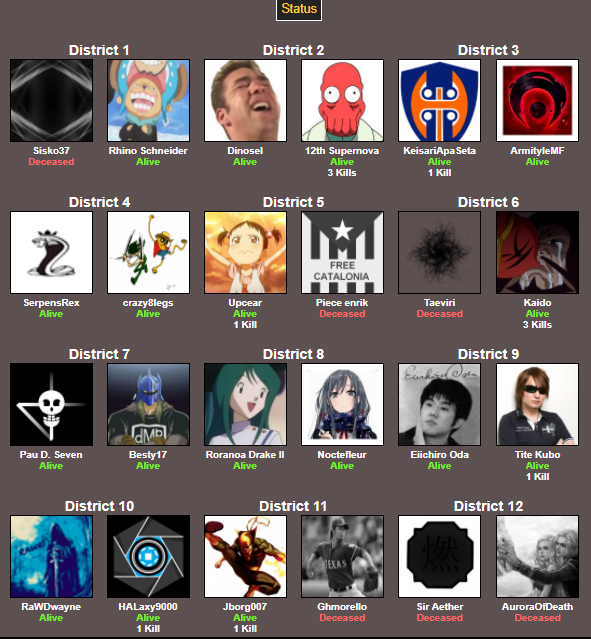 RIP District 12
Night 2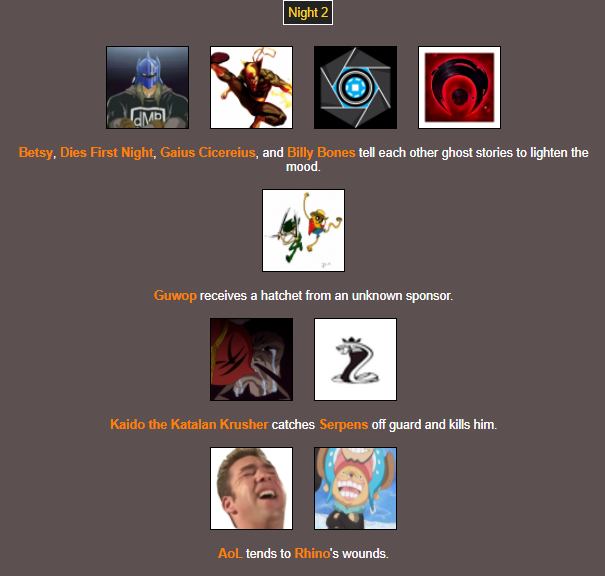 Guys, I swear I'm not manipulating this game at all. I really have no idea how I'm doing so well. Also, Dino and Rhino look like they're doing more than just tending wounds ( ͡° ͜ʖ ͡°)
What does Odacchi fear the most? He must be dreaming about the chapter where he finally has to kill Law. Also, a newbie taking down two of our illustrious mods? How intriguing.
Day 3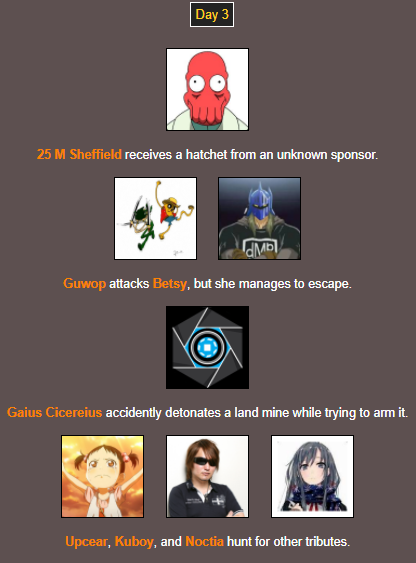 ...You know, this is a pretty appropriate way for a bot to die.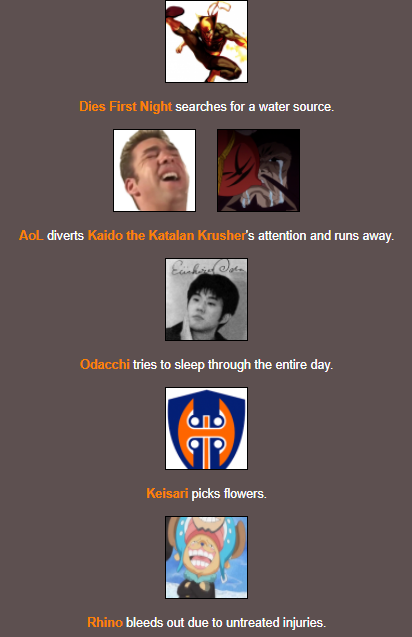 I'm sorry boys! I was distracted by the sexy...Rhino was consumed by it, and look at him now...
The Fallen

...Not too shabby amount of deaths, I must say.
The Status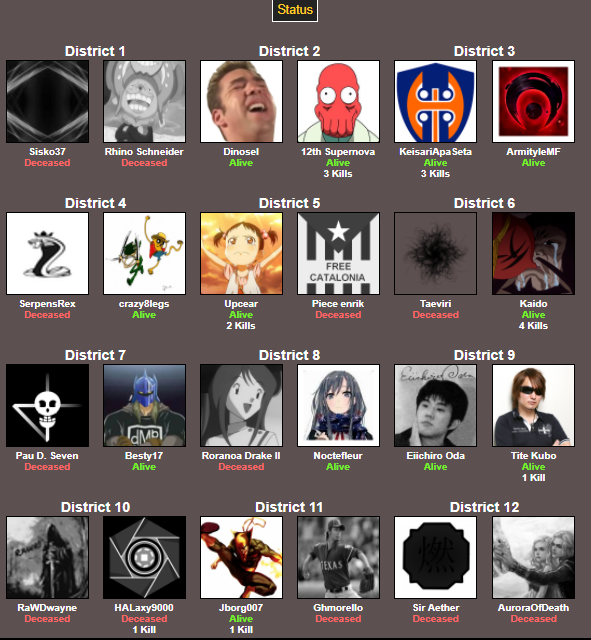 RIP Districts 1 and 10
Night 3
Wow, Dino really gets around ( ͡° ͜ʖ ͡°)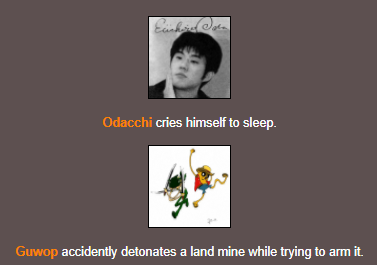 Hmm...did we break Oda? Must be why we haven't had a chapter in a while. Also, what is it with you people and land mines? Lesson learned: these things only work against Spaniards.
Day 4
So, I guess the more appropriate name would have been "Dies Fourth Day".
Kubo trying to run away from the arena? I thought it'd be the other way around.
This is now Nova's second hatchet. I'm scared.
The Fallen
The Status
Night 4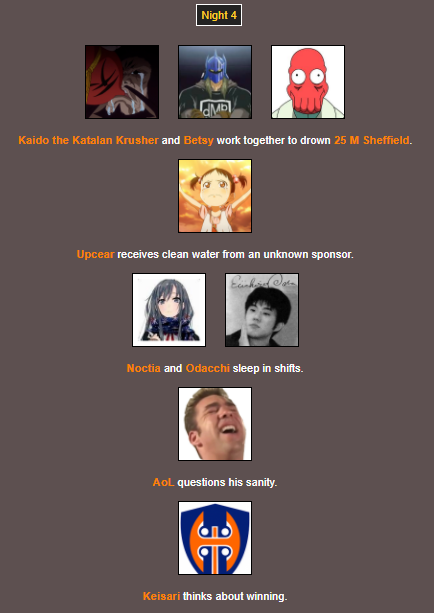 Uh...Long Live the British Empire? Guess hatchets don't work well underwater. No wonder Upcear had to get clean water, considering Nova's in the supply.
Day 5
...Well. I guess everyone treated Dino coldly :(
The Feast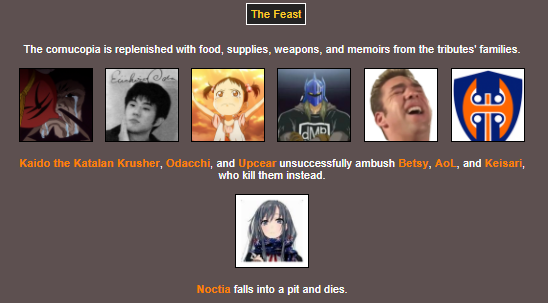 RIP me. I'm admittedly a bit glad though, since it wouldn't look too good if I won this thing. But how did Odacchi of all people lose? Also, this was, uh, before Dino died I guess...
The Fallen

The Status
Only 2 people remain! Let's hope this ends quickly and painfully.
Night 5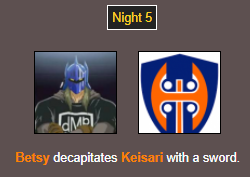 ...Wish granted I guess.
WINNER WINNER CHICKEN DINNER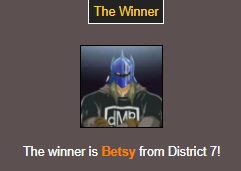 Congratulations! Here's an award for you to claim, if you ever come online and see this.
FINAL PLACEMENTS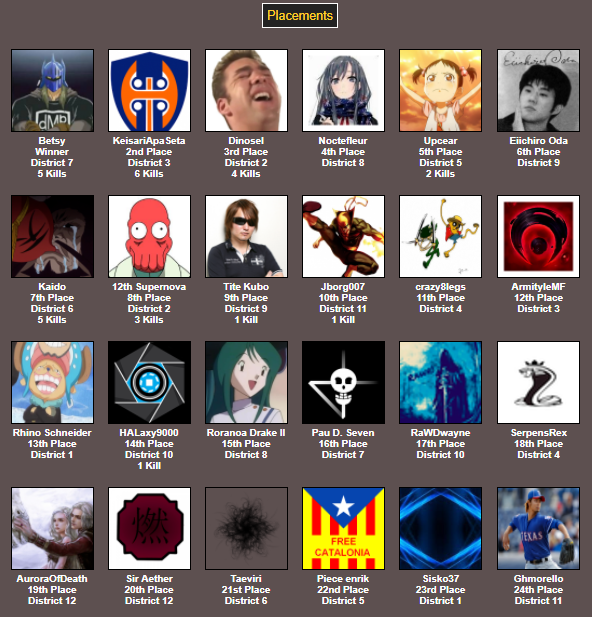 And that concludes another year's Hunger Games! I'm full.