Tambu is a pirate who was captured and imprisoned by the Silver Pirate Alliance.[1]
Appearance
Edit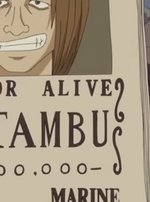 Tambu is a pale young man with dark eyes and a well-defined jaw. He has medium-length brown hair and wears an open-chested, light blue collared shirt.

Personality
Edit
Not much is known about Tambu's personality, but he appeared quite depressed about his capture.[1]
Abilities and Powers
Edit
Tambu is strong enough to be given a bounty of  

70,000,000, as well as reach the New World . However, he was not strong enough to avoid being captured by the Silver Pirate Alliance.[1]
At some point in his life, Tambu became a pirate, reached the New World and was given a bounty. Despite this, he ended up being imprisoned by the Silver Pirate Alliance.[1]
Silver Mine Arc
Edit
Tambu was presented to the Alliance's leader, Bill, by his captors alongside other pirates including Monkey D. Luffy and Bobrad.[1]
References
Edit
Ad blocker interference detected!
Wikia is a free-to-use site that makes money from advertising. We have a modified experience for viewers using ad blockers

Wikia is not accessible if you've made further modifications. Remove the custom ad blocker rule(s) and the page will load as expected.