Skid is a male character of the One Piece OVA. He is the grandfather of Medaka.
Appearance
Edit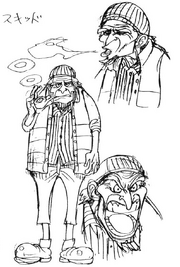 Skid is a middle aged man. He wears a red sleeveless jacket and hat the same color, underneath his jacket he wears a blue shirt.
Personality
Edit
Skid is shown to be quite protective and caring towards his granddaughter, Medaka, since her told her not to attack the Ganzack Pirates for her safety. He is also very generous, as he gave Luffy and Zoro the only food he and his granddaughter had.
A few weeks before the Straw Hat Pirates were shipwrecked and met Medaka and Skid, the Ganzack Pirates invaded their island and took any able-bodied townspeople as prisoners, including Skid's son, Herring.
Defeat Him! The Pirate Ganzack!
Edit
After Medaka meets Luffy, she takes him to meet her grandfather and be reunited with Zoro. Skid gives Luffy and Zoro the last of their food rations and explains to them the terror of Ganzack. Luffy and Zoro go to fight Ganzack, and Skid warns Medaka not to follow to no avail. He is later seen with Nami, Herrring, and other townspeople as Luffy, Zoro, and Medaka attack Ganzack's ship. After Ganzack is defeated and peace is restored, he, along with the rest of the townspeople, send the Straw Hats off with a ship and say their goodbyes.
References
Edit
↑ One Piece Manga – Volume 5 page 128.
Straw Hat Pirates Allies
Non Canon Allies

One Shots

:
Silk  •  Ann and Balloon  •  Dragon Team  •  Toriko and his allies

Specials

:
Medaka, Herring, and Skid  •  Meroie and Hamu  •  Maccus, Bonney, Amanda, Milia, and Holy  •  Randolph Theater members  •  Toriko and his allies  •  Dragon Team  •  Diego and Regis  •  Foxy Pirates  •  Kinoconda  •  Myskina Olga, Myskina Acier, Elizabeth, and Chavez

Movies

:
Ganzo and Tobio  •  Akisu and Borodo  •  Mobambi and Karasuke  •  Adelle and Shuraiya Bascùd  •  Maya  •  Brief  •  Roba and Gonzo  •  Schneider and Buzz  •  Kuzan  •  Mobston and Gari  •  Z  •  Carina  •  Raise Max  •  Rikka

Filler Arcs

:
Apis and Ryu  •  Tajio  •  Kodama  •  Zenny Pirates  •  Pumpkin Pirates  •  Mekao and Kobato  •  Foxy, Porche, and Hamburg  •  Phoenix Pirates  •  Sayo, Lina, and Nukky  •  Yoko and Boss  •  Little East Blue residents  •  Panz Fry and Lily Enstomach  •  Sea Animal Pirates  •  Desire

Games

:
Dias  •  Popola  •  Gaburi  •  Pato  •  Yadoya

Events

:
Dragon Team and Astro Boy and his team  •  Dragon Team and Kankichi Ryotsu  •  Hakuto  •  Toratsugu