Simon is the captain of the Simon Pirates and an enemy boss in the video game for Gameboy Advance, Big Secret Treasure of the Seven Phantom Islands.[2]
Appearance
Edit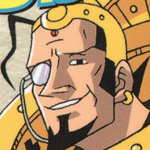 Simon wears an elaborate, pure white suit with gold edges and a cape-like design. Underneath the suit he wears a purple shirt. Simon also wears a monocle over his right eye, as well as a thick golden neck brace, and what appears to be a gold disk behind his head. He wears polished, black shoes. He also seems to be holding a gold-covered book.
Simon has black hair, which is covered by a small golden helmet, except of a black antennae, which is sticking out partially on the front. He has a black goatee and what appears to be black sideburns. Overall, Simon is portrayed as a gentleman.
Simon's full body.
Simon's wanted poster on the back cover of the official guide of the game.
Simon's crew's silhouette.
Personality
Edit
Initially, Simon was a cold man, easily willing to sacrifice innocent people for his cause, like executing them as a method to put pressure on a village or use them as living bombs after promising to let them free. He even enjoyed the prospect of a young boy's death.Calling it a "form of retribution". During battle, Simon was confident in his abilities, even when fighting prominent enemies like Luffy or Zoro. However, he quickly got enraged when his enemies would behave in an unorthodox way during the fight, impairing the aim of his attacks. Despite his short temper, Simon could keep a calm head when the situation required him to. Moments before his defeat, he expressed surprise by Luffy's attempts to save him and seemed to have a change of heart in his last moments, asking him if empathic people like Luffy really existed with a soft expression
Abilities and Powers
Edit
Devil Fruit
Edit
Further information: Pasa Pasa no Mi
Simon ate the Pasa Pasa no Mi, a Logia Devil Fruit that permits him to change into pieces of paper to strike and evade attacks.
Big Secret Treasure of the Seven Phantom Islands
Edit
Simon appears as a boss character on the island that the Straw Hat Pirates are stranded on. He fights them in a RPG battle, but is defeated in the end.
References
Edit
↑ 1.0 1.1 1.2 1.3 One Piece Games - Big Secret Treasure of the Seven Phantom Islands, Simon is introduced.
↑ One Piece Games - Big Secret Treasure of the Seven Phantom Islands, Simon and his Devil Fruit power makes its appearance.
Site Navigation
Edit
Ad blocker interference detected!
Wikia is a free-to-use site that makes money from advertising. We have a modified experience for viewers using ad blockers

Wikia is not accessible if you've made further modifications. Remove the custom ad blocker rule(s) and the page will load as expected.