Sarfunkel is a new inhabitant on the Island of Rare Animals. She is described as a barrel woman.[1]
Appearance
Edit
She has long light colored flowing hair and wears a pair of goggles. She is stuck within a barrel, similar to how Gaimon is stuck inside a chest. Her barrel has the word "Caution" written on it with a star below it.[1]
Personality
Edit
Sarfunkel cares deeply about Gaimon, since they have been friends for some time and she was seen feeding him.[1]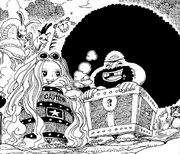 During the two years after Gaimon met the Straw Hat Pirates, Sarfunkel came to the Island of Rare Animals and befriended him. While the two were having a meal, she fed stew to Gaimon.[1]

References
Edit
↑ 1.0 1.1 1.2 1.3 1.4 One Piece Manga — Vol. 63 Chapter 620, cover story: From the Decks of the World Vol. 7, Sarfunkel makes her debut.
Ad blocker interference detected!
Wikia is a free-to-use site that makes money from advertising. We have a modified experience for viewers using ad blockers

Wikia is not accessible if you've made further modifications. Remove the custom ad blocker rule(s) and the page will load as expected.