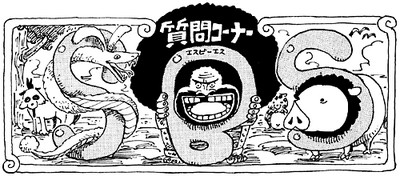 D (Dokusha means Reader)
O (Oda)
Chapter 82, Page 26
Edit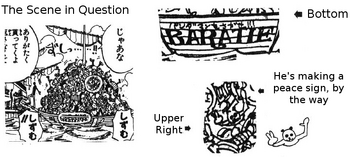 D: Hello, Oda-sensei. You know, in Volume 8, page 92, the sixth panel, you wrote "Search for Pandaman", but I can't find him. Where is he? Please show me.
O: Aha. I got a whole bunch of postcards from people about this one. I got a bunch from people who found him, and a bunch from people who didn't find him. Even though I thought it was so small that no one would notice. Well, I'll show you the answer. In the bottom circle is written the phrase, "Search for Pandaman!!!" And Pandaman is in the upper-right circle.
Chapter 83, Page 46
Edit
D: When the Arlong guys and the other Fishmen give birth, do they lay eggs like fish?
O: Fishmen are still mammals, so they give birth the way humans do. There are fishwomen too, of course.

D: I wanna know the height of all 5.
O: I'll start from the shortest.

D: Of all the Fishmen, Hatchan is the cutest and funniest. But there's one thing that bothers me. Why is Hatchan's full name Hatchan, and his nickname is Hachi?
O: A lot of Chinese people have names that go **** Chan. So it should be just fine.

D: What is the thing that Usopp and a lot of the pirates in One Piece have tied around their waists? A towel? Or did they want one of Zoro's stomach bands, but they couldn't get one, so they used that instead?
O:

← They all have them, don't they? There's no real deep reason for these things. I guess pirates just liked to wear these "decorative sashes". But sometimes they put their pistols in them, so maybe they aren't totally meaningless.
Chapter 84, Page 86
Edit
D: On page 121 in Volume 8, that thing that rises above Zeff's head is a hat, right? My mother says, "It's too tall to be a hat. There must be a pole behind him or something." Sensei, please make this blockhead (age 44) agree with me.
O: Okay, mom, listen to me now. In this world, there are certain unbending truths that you cannot avert your eyes from. The thing that is standing on Zeff's head is the "Tower of Faith", supported by the spirit of the heart. It's called the "Cook's Slice of Heaven Hat". That's right!!!
Chapter 87, Page 128
Edit
D: What do you call Bell-mère-san's haircut?
O: That hairstyle is called "Women have Guts". You should yell it out in a beauty parlor.
Chapter 89, Page 168
Edit
D: Does Usopp have bones in his nose? Because I've seen it bent many times now...
O: I've never seen that. How could his nose possibly bend? What a ridiculous thing to... WHOA!! IT DOES BEND!!!