Ryokugyu is the alias of an admiral in the Marines. Ryokugyu was briefly mentioned by Doflamingo while talking to Fujitora, calling the two of them "beasts".[1] Ryokugyu's real name and gender are currently unknown.
Appearance
Edit
As Ryokugyu has not appeared in the storyline yet, the full extent of their current appearance is unknown. The only distinguishable feature of the admiral is that they have curly, wavy hair and appears to wear a Marine coat like Borsalino and Issho.[2]
Abilities and Powers
Edit
Not much is known about Ryokugyu's abilities, but as a Marine Admiral, Ryokugyu must have at least above-average leadership and coordination skills, and has power over thousands of lower ranked Marines. As an Admiral, Ryokugyu has the authority to enact a Buster Call on any island that is deemed dangerous, and may pass this ability to a lower ranking World Government agent. Ryokugyu has the authority to revoke a Shichibukai's title.
Ryokugyu and Fujitora were stated by Doflamingo to be "true beasts" in terms of power.[1]
Further information: Haki
It was stated that all Marines ranked vice admiral or higher possess Haki,[3] so as a higher ranked officer as well as a Marine Admiral, Ryokugyu can also use the ability.
Not much is known about Ryokugyu's past, but sometime during the two years when the Straw Hats were separated, Ryokugyu became an admiral.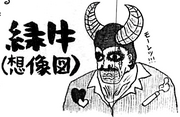 In SBS Volume 73, a fan provided a joke rendering of Ryokugyu's appearance. Oda found it quite bizarre and noted he had already designed the admiral, mentioning that they were "super-duper cool" and that he couldn't wait to draw them.[4]
References
Edit
↑ 1.0 1.1 1.2 1.3 One Piece Manga and Anime — Vol. 72 Chapter 713 and Episode 643, Doflamingo mentions Ryokugyu.
↑ One Piece Manga — Vol. 80 Chapter 801, Ryokugyu's silhouette is seen from an obscured angle as Donquixote Doflamingo mentions several people with enough power to rule the seas.
↑ One Piece Manga and Anime — Vol. 60 Chapter 594 (p. 7) and Episode 511, Dr. Fishbonen states Haki is a power all vice admirals use.