Commander Ripper was one of Morgan's officers at his base in the East Blue. After Morgan's defeat, he takes control of the base's operations.
Appearance
Edit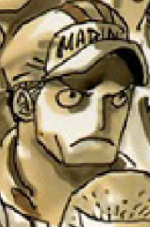 Ripper is an average man who wears the normal marine hat, shirt, and pants. However, his ascot is a light green instead of dark blue. He has tanned skin, brown hair, a pronounced jawline, and a brown mustache and beard.

Personality
Edit
He seems to be a devoted and understanding Marine, asking Luffy and Zoro to leave Shells Town nicely, instead of just capturing them. Since he was willing to let Koby join their ranks, he is welcoming to newcomers. The justice he follows is unique among the Marines because he is stuck between "Absolute Justice" and "Moral Justice".
Abilities and Powers
Edit
As a Marine, Ripper is able to use a gun. Not much else is known of Ripper's abilities, or how strong he may be.
Romance Dawn Arc
Edit
He allowed Luffy and Zoro to escape without reporting them to headquarters for ending Morgan's tyranny and later puts himself (and his entire squad) on food restrictions for doing so. He is the one who also allows Koby, and forces Helmeppo, to join the Marines.[1]
After the Timeskip
Edit
After the timeskip Ripper is shown in a Marine officer's coat. He is seen informing Rika of the return of Luffy and Zoro.[2]

Merchandise
Edit
Video Games
Edit
Non-Playable Appearances
Edit
References
Edit
↑ One Piece Manga and Anime — Vol. 1 Chapter 7 and Episode 3, Ripper assumes command and allows Koby to join.
↑ One Piece Manga — Vol. 63 Chapter 616, Ripper appears for the first time after the timeskip.