Rasa is an anime-only member of the Barbar Pirates.[2] She is the navigator of that crew.
Appearance
Edit
She wears a white blouse on top of a purple shirt, red scarf and long, crimson pants. She also wears curved, brown boots. Like all members of the Barbar Pirates, she wears a little umbrella on her head. Her pink umbrella is placed in her hair acting as a hair pin.[3]
Personality
Edit
She recognized Vivi at first sight when she was crossing the desert with the Straw Hats to Yuba. She used to bear a grudge against Vivi because she thought King Cobra never respected their promise of helping the village of Melias.[4]
Abilities and Powers
Edit
She is the best sand slider navigator of the Barbar Pirates.[5] She's also seen to be a good knife thrower.[6]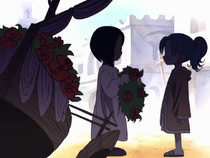 She once lived in a small village called Melias, located in Yuba, before it turned into ruins.
When King Cobra was in a royal tour around the country, the people of the her village gave Vivi (who was accompanying her father) a small sand sled as a display of affection. At that time, Rasa is seen giving the princess a wreath. After Melias was abandoned by its people, she stayed in the village (waiting for the king to return) until Barbarossa found her.[7]
Alabasta Arc
Edit
When traveling to Yuba, she sends Vivi and Luffy's Sand Slend towards a sandpit, on vain of her unkept promise, from when she was a child. Vivi would later apologize for her father's mistake and promises to make things right. She eventually forgives Vivi and is seen smiling hoping for a bright future.[8]
References
Edit