Pretzel is the name of Charlotte Cracker's sword. It is a longsword which Cracker states holds no equal.[2]
Appearance
Edit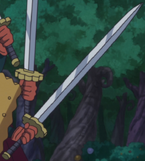 Pretzel is a large double-edged sword, being longer than Cracker's height. It has an oblong-shaped hilt and a round guard resembling a biscuit cookie. When Cracker is inside his biscuit armor, he wields replicas of Pretzel made out of biscuit that are much larger, dwarfing average-sized people.[1][3]
Cracker keeps his sword horizontal on his hip when in his normal form;[3] in his biscuit armor, he has only been seen holding it across his shoulders.[1]

Abilities
Edit
Pretzel is Cracker's primary attack method, and with his immense strength, Cracker can deal both quick and powerful blows to his opponents, even when they are in close range.[4][5]
In conjunction with his Devil Fruit abilities, Cracker can create an infinite number of Pretzels out of biscuit. These replicas retain the original's sharpness, and are much larger than the original, being able to deal much more powerful blows.[6][5] He also channels Busoshoku Haki into it in order to increase its power.[7]
Roll Pretzel (

ロールプレッツェル

Rōru Purettseru

?

): Cracker imbues his sword with Busoshoku Haki and stabs at his opponent. It was first used in Cracker's battle against Monkey D. Luffy. This attack is powerful enough to push Luffy back while he protected himself with Haki and to knock him through several trees.[7]
The sword's name is based on pretzel bread, which matches with the Charlotte Family's food theme.
References
Edit