Papa
Talk

0
3,858pages on
this wiki
Papa
Statistics
Japanese Name:
お茶の間パパ
Romanized Name:
Ochanoma Papa
English Name:
N/A
Debut:
Movie 6
Affiliations:
Tearoom Pirates
Occupations:
Pirate; Captain
Japanese VA:
Takeharu Kunimoto
Papa is a character introduced from the sixth One Piece movie.
Appearance
Edit
Papa is an smaller man with brown hair and stubble. He wears a red coat with yellow stripes that cuts off at his stomach, green shorts that have yellow polka dots on the, and a pirate hat of the same design and color as his coat. He also wears black, rectangular sun glasses that rest at the tip of his nose.
Personality
Edit
He was originally shown to be a coward and would try to deceive his children to make them think he was strong and brave. After the help of Luffy and Daisy, he learned to overcome his fears and showed true bravery.
Abilities and Powers
Edit
Physically, Papa is very weak, since he was easily defeated by Chopper. He does, however, have impecible aim, since he struck the Lily Carnation through the head with Omatsuri's bow and arrow. Not only that, but he also shot with that accuracy while he was nervous and shaking, from a distance, and when using the bow for the first time.
At some point, Papa's wife died and, later, he became the captain of his own pirate crew, the Tearoom Pirates. His ship mates are his three children: Daisy, Rosa, and Rick. They sailed through the Grand Line, and, along the way, Rosa lost all respect she once had for him as he was shown to be a coward. Eventually, they traveled to Omatsuri Island after hearing about it and deciding to got there for a picnic.
Baron Omatsuri and the Secret Island
Edit
At the beginning of the movie, he was shown to be cowardly but, to his family, shows a rough appearance, only wanting their happiness and adoration. He was later caught off guard by Chopper while visiting a cemetery.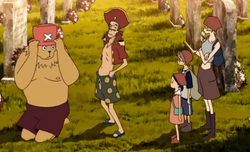 He got into a fight with Chopper and was easily defeated by him but ended up striking a deal with him where he would help the
Straw Hat Pirates
defeat Baron Omatsuri and learn the secret of the island in exchange for a fake fight so his kids would thing he is strong. He and Chopper engaged in the fake fight, causing Rick and Daisy to believe there father was actually strong. Rosa got annoyed, tried to discourage their belief in him, and called him a coward, causing Rick to doubt him and Daisy to become disappointed.
After he agreed to the deal with the pirate, Papa showed Chopper an old wanted poster of the Red Arrows Pirates. He told the reindeer that Omatsuri and his men used to be a pirate crew, and Chopper noticed that on the poster, Omatsuri looked considerably different and younger than his current state while the rest of his crew looked the same. Out of no where, Omatsuri arrives and shoots Chopper with an arrow.
Omatsuri took Chopper to the top of the island where Lily Carnation's root was and the Tearoom Pirates follow to try and save Chopper. Omatsuri was willing to sacrifice them all to the giant demonic plant, and a vine of the root grabbed Daisy. Chopper and the others grabbed her and pulled her to safety, but when Chopper was grabbed by the vines and Papa's children tried to pull him back, Papa forced his kids to let go, worrying about their safety. They became frustrated with him and told him he was a coward.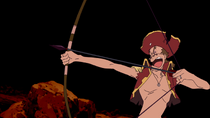 Later, Papa and his kids met Luffy and Brief and told them about Chopper. After Luffy fought and was defeated by Omatsuri, they all went Brief's hideout. When they arrived, Papa agreed to help fight and his kids started to believe in their father again. With the surprising help of Luffy and Daisy, Papa learns to overcome his fears and gains back his courage. He confronts Baron Omatsuri and helps Luffy to defeat him and Lily Carnation by shooting an arrow at the monstrous plant, killing it.
With the plant dead and the Baron defeated, Rosa and Rick saw his true heroism and looked up to him once again. Daisy, however, told her father that she has a very sharp ear just like her mother and that she never lost respect for him.
Major Battles
Edit
"Papà" means "dad" in Italian, Catalan, Spanish, German and French.