Papa
Talk

0
3,686pages on
this wiki
Papa
Statistics
Japanese Name:
お茶の間パパ
Romanized Name:
Ochanoma Papa
English Name:
N/A
First Appearance:
Movie 6
Affiliations:
Teacup Pirates
Occupations:
Pirate; Captain
Japanese VA:
Takeharu Kunimoto
Papa is a character introduced from the sixth One Piece movie.
Appearance
Edit
Papa is an small sized man with brown hair. He wears a red coat with yellow stripes, and a pirate hat of the same design and color. He also wears black, rectangular sun glasses that rest at the tip of his nose.
Personality
Edit
He was always shown to be a coward, but after the help of Luffy and Daisy, he learned to overcome his fears.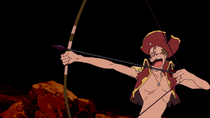 He is the captain of his own crew, the Teacup Pirates. His ship mates are his three children: Daisy, Rosa, and Rick. At the beginning of the movie, he is shown to be cowardly but to his family shows a rough appearance, only wanting the happiness of his family. He is later caught off guard by Chopper while visiting a cemetery.
He gets into a fight with Chopper and is easily defeated by him, but ends up striking a deal with him in which he would help the Straw Hat Pirates defeat Baron Omatsuri and learn the secret of the island Omatsuri. With the surprising help of Luffy and Daisy, Papa learns to overcome his fears and gains back his courage, so he confronts Baron Omatsuri, and helps Luffy to defeat him and Lily Carnation by shooting an arrow at the monstrous plant.

"Papà" means "dad" in Italian, Catalan, Spanish, German and French.