One Piece in Greece
Statistics
Continent:
Europe
Language:
Greek
First transmitted:
April 14th, 2002
Number of episodes:
105
Number of volumes:
None
Censorship:
Yes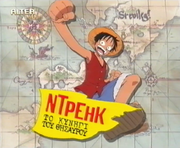 The series aired on the television station Alter Channel under the name "Ντρέηκ Και Το Κυνήγι Του Θησαυρού" (Drake And the Hunting of the Treasure). It first aired in Greece in 14 April 2002 but it stopped at Episode 105, during the Alabasta Arc.
The ΕΣΡ (Greek Television Council) decided that the events shown on episode 28 during the fight between Luffy and Don Krieg (and especially the part where Luffy was stabbed and took the projectiles out of his arm) were highly inappropriate for the minors watching the show. As a result, an order was issued a year later for the show to stop, since it was considered not suitable for children due to the amount of violence and fierce battles it contained. An interesting thing to note is, that according to the dubbing, the crew does not intent to go to Raftel, but to the Red Line instead. Also, another interesting detail is that Luffy's name did not involve the characteristic "D", which was omitted. It is not known whether that was done intentionally and there was a plan to rectify it as the series moved on or it was a dubbing mistake.
Character Name Changes
Edit
Jango's name, along with Sham's, Buchi's, Pearl's, Nelson's, Shanks's, Crocodile's, Buggy's, Vivi's, Alvida's and Dalton's were not changed.
The first opening "We Are" was adapted into Greek and featured lyrics that were not related to the Japanese version.