One Piece The Combining Prison Impel Down!!
Talk

0
Share
| | |
| --- | --- |
| | This article is about Japanese merchandising. For some pointers about related subjects like bootlegs, Japanese version vs the world, or the Toei sticker, you can consult the Merchandise FAQ page. |
| | |
| --- | --- |
| | Illustrations on this page are stock photos and aren't necessarily representative of the final products. |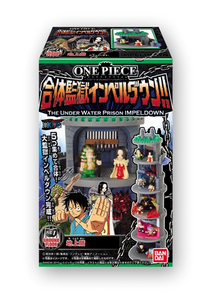 This Impel Down diorama, released by Bandai on March 2010, consists of 5 parts with 2 mini-figures each, for a total of 10 figures. It shows all the way down to the last level of Impel Down, level 6.
The top most section represents the entrance to Impel Down with Hannyabal and Hancock, then it shows level 1 & 2 with Buggy and post Geard 3rd Luffy, 3rd section is for level 3 & 4 with Magellan and normal Luffy, thereafter level 5 and the secret Okama Paradise i.e. level 5.5 with Bentham and Ivankov, and it ends with level 6 featuring Jinbe and Crocodile.
The diorama Japanese name is literally 'One Piece The Combining Prison Impel Down!!' but it has an English subtitle: 'The Under Water Prison IMPELDOWN'. The price of a single part is ¥380, ¥399 with Japanese taxes.