One Piece Color Walk 4 Eagle is a book that contains, in particularly, the Color panels between Chapter 287 and Chapter 391. They are displayed in order of appearance from July 28, 2003 to February 13, 2006.
Cover Poll
Edit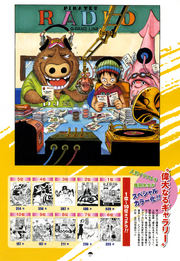 On page, 87 announced the result of a poll, Oda ask the readers which cover page they want to see in colors. The winning cover is "The Pirate Radio" from Chapter 475.
Ad blocker interference detected!
Wikia is a free-to-use site that makes money from advertising. We have a modified experience for viewers using ad blockers

Wikia is not accessible if you've made further modifications. Remove the custom ad blocker rule(s) and the page will load as expected.