For the anime filler pirate of Foxy's crew, see Mashikaku (Pirate).
Mashikaku[2] is a subordinate to Smoker and Tashigi.
Appearance
Edit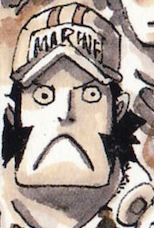 Mashikaku's facial structure resembles that of a monkey, with bushy brown hair and sideburns, tanned skin, and a square jaw. He wears the standard Marine shirt and cap.[1]

Personality
Edit
Despite being a Marine, Mashikaku was absolutely terrified of Luffy's bounty.
He went into the steam room when Smoker was stacking rocks and relaxing, and told Smoker about the incident at the scaffolding. Smoker then gives Mashikaku orders on where eatch unit should be placed. He then followed Smoker and Tashigi around Loguetown for a while [3] and was shown to be terrified of Luffy's

30,000,000 bounty.
He was later seen in Alabasta, explaining that Nico Robin has had a bounty since she was seven.[4] He also wanted to capture the Straw Hats after they are passed out from fighting Baroque Works, but Tashigi was against it.[5]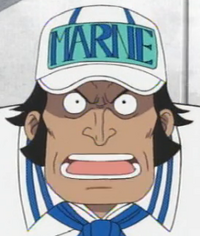 His name means "Really Square", which is an accurate description of his features.
Mashikaku is known as "Marney the Marine" in the FUNimation dub, possibly because at least one scene features his Marine hat erroneously labeled "MARNE" instead of "MARINE". He is also J. Michael Tatum's favorite One Piece role.[citation needed]
A support character in One Piece: Grand Adventure, Navy A, bears a striking resemblence to Mashikaku. Since he is an underling of Tashigi and Navy A is a support, it is possible that they are the same person. Mashikaku wasn't named in the United States at the time of the game's release.
References
Edit
↑ 1.0 1.1 One Piece Manga and Anime — Vol. 11 Chapter 98 (p. 14) and Episode 48, Mashikaku debuts.
↑ One Piece Blue: Grand Data File, his name is revealed.
↑ One Piece Manga and Anime — Vol. 11 Chapter 98 (p. 14-17) and Episode 48, Mashikaku debuts.
↑ One Piece Manga and Anime — Vol. 22 Chapter 201 (p. 14) and Episode 122, Mashikaku tells her superior Tashigi about Robin's identity.
↑ One Piece Manga and Anime — Vol. 23 Chapter 212 (p. 5) and Episode 127, Tashigi refuses to capture the Straw Hats in the aftermath of the Alabasta events.
Ad blocker interference detected!
Wikia is a free-to-use site that makes money from advertising. We have a modified experience for viewers using ad blockers

Wikia is not accessible if you've made further modifications. Remove the custom ad blocker rule(s) and the page will load as expected.