For the anime filler pirate of Foxy's crew, see Mashikaku (Non-Canon).
Mashikaku[2] is a subordinate to Smoker and Tashigi. However, it is unknown if he remained with the two after they transferred to G-5 as he is not seen with the G-5 Marines.
Appearance
Edit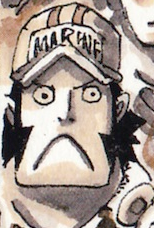 Mashikaku's facial structure resembles that of a monkey, with bushy brown hair and sideburns, tanned skin, and a square jaw. He wears the standard Marine shirt and cap. In the manga, he wears epaulettes which may serve to differentiate himself in rank as a Chief Petty Officer. In the anime, however, he lacks the epaulettes and so, in terms of uniform, looks no different from a common Marine sailor.[1]

Personality
Edit
Despite being a Marine, Mashikaku was absolutely terrified of Luffy's bounty.
East Blue Saga
Edit
Loguetown Arc
Edit
He went into the steam room when Smoker was stacking rocks and relaxing, and told Smoker about the incident at the scaffolding. Smoker then gave Mashikaku orders on where each unit should be placed. He then followed Smoker and Tashigi around Loguetown for a while [3] and was shown to be terrified of Luffy's

30,000,000 bounty. Later, when Smoker decided to head out into the Grand Line to chase after Luffy, he expressed concern over how the higher-ups would react if Smoker were to abandon his post.[4]
Alabasta Saga
Edit
Alabasta Arc
Edit
He was later seen in Alabasta, explaining that Nico Robin has had a bounty since she was seven.[5] He also wanted to capture the Straw Hats after they were passed out from fighting Baroque Works, but Tashigi was against it.[6]
Summit War Saga
Edit
Amazon Lily Arc
Edit
Mashikaku was seen behind Smoker and Tashigi arriving at Marineford upon the summons to reinforce the headquarters ahead of the execution of Portgas D. Ace.[7]
Anime and Manga Differences
Edit
In the anime, he does not wear epaulettes. He was also replaced by a random Marine during Smoker's arrival at Marineford.
His name means "Really Square", which is an accurate description of his features.
A support character in One Piece: Grand Adventure, Navy A, bears a striking resemblence to Mashikaku. Since he is an underling of Tashigi and Navy A is a support, it is possible that they are the same person. Mashikaku wasn't named in the United States at the time of the game's release.
References
Edit
↑ 1.0 1.1 One Piece Manga and Anime — Vol. 11 Chapter 98 (p. 14) and Episode 48, Mashikaku debuts.
↑ One Piece Blue: Grand Data File, his name is revealed.
↑ One Piece Manga and Anime — Vol. 11 Chapter 98 (p. 14-17) and Episode 48, Mashikaku debuts.
↑ One Piece Manga — Vol. 12 Chapter 100.
↑ One Piece Manga and Anime — Vol. 22 Chapter 201 (p. 14) and Episode 122, Mashikaku tells her superior Tashigi about Robin's identity.
↑ One Piece Manga and Anime — Vol. 23 Chapter 212 (p. 5) and Episode 127, Tashigi refuses to capture the Straw Hats in the aftermath of the Alabasta events.
↑ One Piece Manga — Vol. 54 Chapter 524, Mashikaku accompanies Smoker and Tashigi