Mao is an anime-only character who only appears in the Boss Luffy Historical Arc. She works in Onami's restaurant.
Appearance
Edit
Mao is a average height woman with brown hair and eyes. She has a headpiece in her hair. She wears a light yellow kimono with a pink obi.
Personality
Edit
She is a kind woman who would always serve Luffy food, despite Onami's protest.
Mao is seen working as a waitress, serving food to customers.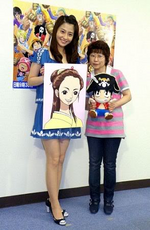 She is based on and voiced by Japanese actress Mao Kobayashi.
Ad blocker interference detected!
Wikia is a free-to-use site that makes money from advertising. We have a modified experience for viewers using ad blockers

Wikia is not accessible if you've made further modifications. Remove the custom ad blocker rule(s) and the page will load as expected.