The Lord of the Coast[2] is a Sea King who inhabits the waters near Foosha Village. [3] He is classified as a Type C creature, "Big Savage".[4]
Appearance
Edit
The Lord of the Coast is fairly small in size compared to other Sea Kings;[5] however, he is still quite large in comparison with most other sea monsters in the One Piece world.
His appearance is similar to a large oversized brown eel with red eyes and blue fins. These eyes become bloodshot and the pupils turn catlike when it goes into a berserk frenzy, a trait shared in the fishman Arlong.
Personality
Edit
The Lord of the Coast is very aggressive and fierce in nature. In the creature classification, he's considered even more savage than a typical Sea King.[4] However despite his fearsome aggressive personality, he is shown to fear powerful individuals like Shanks as he was frightened off by Shanks with a single angry glare.
Romance Dawn Arc
Edit
He was first seen when he ate Higuma, who was in a small rowing boat, shortly after Higuma threw Luffy into the water. He then tries to eat Luffy, failing to do so and instead just managing to bite off Shanks' left arm. He is scared away then by Shanks, who stares him down using his Haoshoku Haki.[6]
Ten years later, when Luffy left his hometown to start his journey as a pirate, the Lord of the Coast tried to eat him again. Luffy promptly knocked him out with a Gomu Gomu no Pistol.[6]
Major Battles
Edit
Anime and Manga Differences
Edit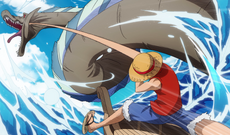 The anime did not depict Luffy punching the Lord of the Coast while leaving home during his original backstory. Luffy's past was revealed in a flashback which pointed out small details such as this.
Luffy, however, is featured knocking him out in the original opening for the series (We are!) as well as One Piece: Grand Battle! Rush!.[7]
It was finally shown in the anime series near the end of episode 504, when the rest of Luffy's backstory was revealed. Luffy's stance in the episode is closer to the manga than in the opening, with his foot sticking up and his left arm holding his right, whereas the opening has his foot on the edge of the boat and his left arm pulled back.
Merchandise
Edit
He was issued alongside Shanks and Luffy in a One Piece Block Figures set featuring the Straw Hats and their past mentors/loved ones.
Video Games
Edit
Playable Appearances
Edit
Enemy Appearances
Edit
Non-Playable Appearances
Edit
References
Edit