Ishigo Shitemanna[1] is an appraiser in Water 7.
Appearance
Edit
Ishigo is a pale man with short black hair and a black mustache. He wears a white shirt with purple overalls.
Personality
Edit
He is somewhat sneaky, as he tried to take the Straw Hats' gold for less money than it was worth.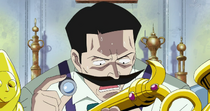 When Luffy, Nami, and Usopp brought him their gold to exchange for cash, he appraised it to be worth

100,000,000. Nami then gets angry and tells him to stop lying, saying the gold is really worth

300,000,000. Ishigo realizes that he has been caught and becomes frightened of Nami. He then gives them the full cash value of their gold.

References
Edit
↑ One Piece Blue Deep: Characters World (p. 213), His name is revealed.
Ad blocker interference detected!
Wikia is a free-to-use site that makes money from advertising. We have a modified experience for viewers using ad blockers

Wikia is not accessible if you've made further modifications. Remove the custom ad blocker rule(s) and the page will load as expected.