Herring is a male character of the One Piece OVA. He is the father of Medaka.
Appearance
Edit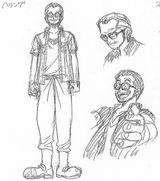 Herring is an average sized man, with short blue hair, black eyebrows, and a bit of stubble on his chin. Herring wears square glasses, and a green short sleeves shirt with pockets in the front and a collar, with a red patch on the left sleeve. Underneath, he wears a tan colored V-neck shirt. He wears light colored pants, that are tucked into his large normal boots.
Personality
Edit
Herring is a very brave and kind man. He cares greatly for his daughter and the well being of the townspeople and is willing to risk his life to free everyone from the Ganzack Pirates. He is quite intelligent, as he formed a plan to escape the "Devil's Tower" and thought to use their own artillery against them. He has also shown many leadership qualities, since he led the imprisoned workers against Ganzack.
Abilities and Powers
Edit
Herring is shown to be a proficient fighter. He is seen using a shovel as a weapon against the Ganzack Pirates and also uses dynamite to start the riot and fight Plesiosaur. He is also a great strategist, as he planned the riot successfully.
A few weeks before the Straw Hat Pirates were shipwrecked and came to the island, Herring and many other citizens were captured by the invading Ganzack Pirates and forced to work as slaves in the "Devil's Tower".
Defeat Him! The Pirate Ganzack!
Edit
When Medaka and the Straw Hats first entered the base, Herring appeared being hassled by a guard. Medaka tried to defend him but ended up starting a fight. She, along with Luffy and Zoro, were then captured and Ganzack and his crew celebrated. While the crew was distracted, Herring fired up the other prisoners and started a riot. Ganzack, however, showed up and shot Herring's left shoulder, which prevented him from fighting. Medaka returned and defended her father from Ganzack's wrath, but Luffy, Zoro, and Nami showed up to defeat Ganzack. He and his crew tried to escape on their ship, and Herring told Medaka not to go after them with Luffy and Zoro. She did not heed his warning and went along with them. While Luffy was fighting Ganzack, Herring, the other former prisoners, and Nami defeated Plesiosaur with dynamite. After Ganzack was defeated, Herring was seen with his daughter and father sending the Straw Hats on their way.
Major Battles
Edit
References
Edit
↑ One Piece Manga – Volume 5 page 128.
Straw Hat Pirates Allies
Non Canon Allies

One Shots

:
Silk  •  Ann and Balloon  •  Dragon Team  •  Toriko and his allies

Specials

:
Medaka, Herring, and Skid  •  Meroie and Hamu  •  Maccus, Bonney, Amanda, Milia, and Holy  •  Randolph Theater members  •  Toriko and his allies  •  Dragon Team  •  Diego and Regis  •  Foxy Pirates  •  Kinoconda  •  Myskina Olga, Myskina Acier, Elizabeth, and Chavez

Movies

:
Ganzo and Tobio  •  Akisu and Borodo  •  Mobambi and Karasuke  •  Adelle and Shuraiya Bascùd  •  Maya  •  Brief  •  Roba and Gonzo  •  Billy  •  Schneider and Buzz  •  Kuzan  •  Mobston and Gari  •  Z  •  Carina  •  Raise Max  •  Rikka

Filler Arcs

:
Apis and Ryu  •  Tajio  •  Kodama  •  Zenny Pirates  •  Pumpkin Pirates  •  Mekao and Kobato  •  Foxy, Porche, and Hamburg  •  Phoenix Pirates  •  Sayo, Lina, and Nukky  •  Yoko and Boss  •  Little East Blue residents  •  Panz Fry and Lily Enstomach  •  Sea Animal Pirates  •  Desire

Games

:
Dias  •  Popola  •  Gaburi  •  Pato  •  Yadoya

Events

:
Dragon Team and Astro Boy and his team  •  Dragon Team and Kankichi Ryotsu  •  Hakuto  •  Toratsugu