| | |
| --- | --- |
| | This article is about Japanese merchandising. For some pointers about related subjects like bootlegs, Japanese version vs the world, or the Toei sticker, you can consult the Merchandise FAQ page. |
| | |
| --- | --- |
| | Illustrations on this page are stock photos of finished and polished model kits. You may require some cutting, assembling and painting skills to let them look like completed products. |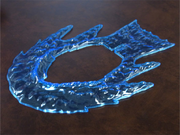 Bandai Hobby Division created a line of plastic model kits (プラモデル plamodel in Japanese) called Grand Ship Collection. The goal is to release model kits that only need very basic assembly skills to get a finished product as kits come with special runners, from which parts can be cut off without using hobby tools, and a lot of stickers to avoid any mandatory painting, despite it still being needed for a better looking product.
Each model kit represents a pirate ship of 13-15 cm long that can be displayed in 3 different ways using the provided stand base or sea surface effect part:
Basic/regular display mode, using the classic static pose,
Waterline display mode, making believe that ships are on water,
Dynamic display mode, letting ships "flying" around (requires the generic action base 2, sold separately).
ワンピース偉大なる船コレクション
Thousand Sunny
Edit
Information
Release date: mid-February 2012
Price: ¥1,680 (VAT included)
Content
Runner x4, marking sticker x1, color sticker x1, manual x1
Accessories
Sea surface effect part x1, stand base x1
Trafalgar Law's Submarine
Edit
Information
Release date: mid-February 2012
Price: ¥1,680 (VAT included)
Content
Runner x4, marking sticker x1, color sticker x1, manual x1
Accessories
Sea surface effect part x1, stand base x1
Going Merry
Edit
Information
Release date: March 2012
Price: ¥1,680 (VAT included)
Content
Runner x4, marking sticker x1, color sticker x1, manual x1
Accessories
Sea surface effect part x1, stand base x1, cannon x1, anchor x2
Red Force
Edit
Information
Release date: April 2012
Price: ¥1,680 (VAT included)
Content
Runner x4, marking sticker x1, color sticker x1, manual x1
Accessories
Sea surface effect part x1, stand base x1
External Links
Edit