Gran Tesoro is a massive ship with a large entertainment city built on it. It was formerly ruled by Gild Tesoro, but after he was deposed and most of the population evacuated, Carina took command over the ship.[1]
Information
Edit
It is acknowledged as an independent state by the World Government due to Tesoro's wealth, and they also classify it as a demilitarized zone. It is referred to as the "moving country of dreams."[1]
One way of reaching the ship is by Gild Tesoro's Vivre Card, that is considered as a personal invitation by Tesoro himself. The invitation is delivered in a closed envelope sealed by the Gran Tesoro emblem. One invite was given to Mad Treasure by Tanaka so that the treasure hunter could deliver the Pure Gold to him. The envelope was later taken by Nami and the Vivre Card was used to guide the Straw Hat Pirates to the casino.[2]

Ship Design and Appearance
Edit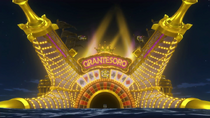 A large portion of the Gran Tesoro is composed of gold, and its bow resembles a cruise ship, only much more massive in scale. The entire ship is ten kilometers long and a city is built inside it, with no roof covering it. The stern is a large circle with a tall golden tower in the center (designed to look like a roulette wheel), and at the very back is a large green area (designed to look like a card table). The front of the ship allows others ships to enter inside the Gran Tesoro. Its name and two pirate flags can be seen when entering the ship.[1]
Jolly Roger
Edit
The ship's jolly roger is a thin skull wearing a purple top hat balanced on the left side of its head, with two white crossbones behind it. Behind the skull and crossbones there is a large yellow dotted pattern in the shape of a capital letter "G".
Above the entrance in the front of the ship, there is a figure of the jolly roger where the "G" is made out of light bulbs.
This is an empty section. Please help the wiki by adding information to it.
The ship's name means "great treasure" in Italian and Spanish.
This is the third ship that doubles as a location, with the first being Thriller Bark and the second being Island Ship.

While Thriller Bark and Island Ship are islands converted into ships, Gran Tesoro is a ship that is considered a country.

The second half of the ship's design resembles the Roulette and Blackjack table.
Gran Tesoro is similar to a real-life city, Las Vegas, the Entertainment Capital of the World.
References
Edit
↑ 1.0 1.1 1.2 1.3 One Piece Movie 13, The Gran Tesoro makes its first appearance.
↑

Heart of Gold