Whitebeard vs. John Giant.png
Talk

11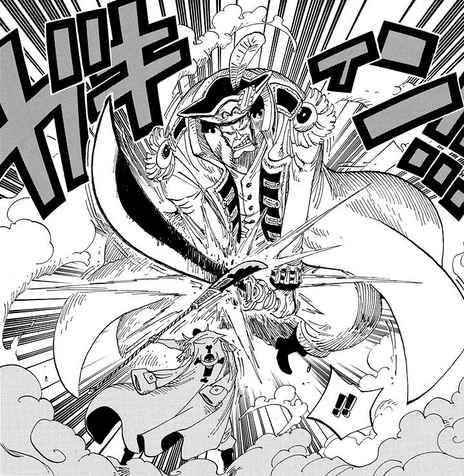 Licensing:
Edit
Appears on these pages

of
Edward Newgate, more commonly known as "Whitebeard", was the captain of the Whitebeard Pirates...

Vice Admiral John Giant is one of the marine officers in the Marine Headquarters. He is the...

For Whitebeard's powers gallery, the pictures are getting constantly switched back and forth...
File history
Click on a date/time to view the file as it appeared at that time.
Date/Time
Thumbnail
Dimensions
User
Comment
current
15:45, October 11, 2014
827 × 854

(347 KB)

Calua (Talk | contribs)
15:28, January 31, 2011
827 × 856

(543 KB)

MasterDeva (Talk | contribs)
Manga version.
10:14, January 31, 2011
989 × 1,653

(1.73 MB)

I forgether (Talk | contribs)
Reverted to version as of 09:55, January 31, 2011
10:00, January 31, 2011
827 × 856

(826 KB)

Yatanogarasu (Talk | contribs)
Reverted to version as of 19:43, January 16, 2011
09:55, January 31, 2011
989 × 1,653

(1.73 MB)

I forgether (Talk | contribs)
Reverted to version as of 03:06, December 29, 2010
19:43, January 16, 2011
827 × 856

(826 KB)

MasterDeva (Talk | contribs)
Reverted from vandalism.
18:33, January 16, 2011
989 × 1,653

(1.73 MB)

LuisMiH20 (Talk | contribs)
Reverted to version as of 11:09, January 7, 2011
12:11, January 7, 2011
827 × 856

(826 KB)

MasterDeva (Talk | contribs)
You've been warned to stop vandalizing!!
11:09, January 7, 2011
989 × 1,653

(1.73 MB)

Imhungry4444 (Talk | contribs)
Reverted to version as of 01:16, January 7, 2011
01:28, January 7, 2011
827 × 856

(826 KB)

Uknownada (Talk | contribs)
Reverted to version as of 10:29, December 29, 2010 As much as I hate to say it, MasterDeva does have a point. This picture isn't really that good, unless somehow the top part was on the bottom, then it MIGHT be a bit better. Besides, look at the WB page.
01:16, January 7, 2011
989 × 1,653

(1.73 MB)

Imhungry4444 (Talk | contribs)
Reverted to version as of 05:49, December 29, 2010
10:29, December 29, 2010
827 × 856

(826 KB)

MasterDeva (Talk | contribs)
Stop vandalizing Imhungry4444!
05:49, December 29, 2010
989 × 1,653

(1.73 MB)

Imhungry4444 (Talk | contribs)
Reverted to version as of 03:06, December 29, 2010
04:18, December 29, 2010
827 × 856

(826 KB)

Klobis (Talk | contribs)
Reverted to version as of 06:47, December 27, 2010
03:06, December 29, 2010
989 × 1,653

(1.73 MB)

Imhungry4444 (Talk | contribs)
Reverted to version as of 06:10, December 27, 2010
06:47, December 27, 2010
827 × 856

(826 KB)

MasterDeva (Talk | contribs)
Vandalism.
06:10, December 27, 2010
989 × 1,653

(1.73 MB)

Imhungry4444 (Talk | contribs)
Reverted to version as of 03:58, December 26, 2010
06:58, December 26, 2010
827 × 856

(826 KB)

MasterDeva (Talk | contribs)
Please do bother to read the discussion page...
03:58, December 26, 2010
989 × 1,653

(1.73 MB)

Genocyber (Talk | contribs)
(full scene.Now leave it be)
02:35, December 22, 2010
827 × 856

(826 KB)

MasterDeva (Talk | contribs)
The purpose of this image is to show Whitebeard stopping John Giant's attack with one hand, not just show them stare at each other!
00:51, December 22, 2010
1,280 × 1,419

(1.54 MB)

Genocyber (Talk | contribs)
anime version
23:00, December 21, 2010
827 × 856

(826 KB)

Klobis (Talk | contribs)
Reverted to version as of 02:55, November 2, 2010
11:47, December 21, 2010
1,280 × 1,419

(1.54 MB)

Genocyber (Talk | contribs)
02:55, November 2, 2010
827 × 856

(826 KB)

Klobis (Talk | contribs)
22:20, November 1, 2010
767 × 799

(732 KB)

MasterDeva (Talk | contribs)
Slightly better version.
22:03, November 1, 2010
765 × 803

(734 KB)

MasterDeva (Talk | contribs)
It depicts Whitebeard holding off a blade with one hand against a GIANT who uses BOTH of his hands AND his body weight in that sing blow!
21:22, November 1, 2010
989 × 558

(1.12 MB)

Buh6173 (Talk | contribs)
The image is only on Whitebeard's page, and only depicts his strength of holding off a blade with one hand, which this depicts.
18:51, November 1, 2010
765 × 803

(734 KB)

MasterDeva (Talk | contribs)
Manga version showing both Whitebeard and John Giant.
18:43, November 1, 2010
989 × 558

(1.12 MB)

Buh6173 (Talk | contribs)
Well now it's just being used on Whitebeard's page.
18:17, November 1, 2010
765 × 803

(734 KB)

MasterDeva (Talk | contribs)
Tankōbon version
02:57, November 1, 2010
717 × 669

(473 KB)

GMTails (Talk | contribs)
Reverted to version as of 16:12, August 3, 2010
01:42, November 1, 2010
990 × 1,116

(2.35 MB)

Buh6173 (Talk | contribs)
16:12, August 3, 2010
717 × 669

(473 KB)

Aldarinor (Talk | contribs)
02:55, November 30, 2009
751 × 699

(482 KB)

JasonRyu (Talk | contribs)
Metadata