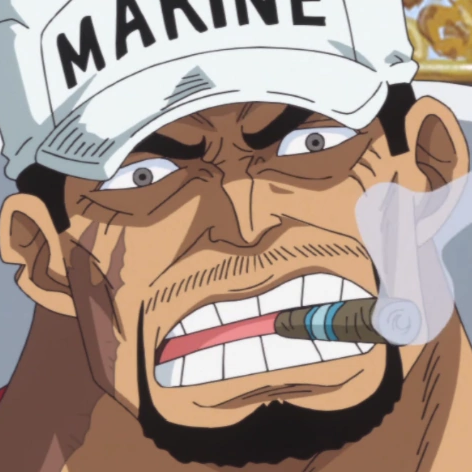 Licensing
Edit
Appears on these pages

of
Haki is a mysterious power that is found in every living being in the world. It is not that...

Busoshoku Haki is a form of Haki that allows the user to use their spirit to create, in essence...

Logia is one of the three Devil Fruit types. A Logia Devil Fruit is characterized by giving its...
See full list >
File history
Click on a date/time to view the file as it appeared at that time.
(Latest |
Earliest
) View (newer 50 |
older 50
) (
20
|
50
|
100
|
250
|
500
)
Date/Time
Thumbnail
Dimensions
User
Comment
current
09:12, April 10, 2016
580 × 580

(462 KB)

Sarutobii2 (Talk | contribs)
15:38, July 13, 2015
255 × 255

(156 KB)

Awaikage (Talk | contribs)
00:08, July 11, 2015
274 × 274

(94 KB)

JustSomeDude... (Talk | contribs)
Reverted to version as of 14:47, July 9, 2015 Hats aren't an essential part of portaits.
03:04, July 10, 2015
349 × 349

(125 KB)

Klobis (Talk | contribs)
14:47, July 9, 2015
274 × 274

(94 KB)

JustSomeDude... (Talk | contribs)
[http://onepiece.wikia.com/index.php?title=File_talk%3ASakazuki_Anime_Post_Timeskip_Infobox.png&diff=1125473&oldid=1125379 Called it]
21:06, December 6, 2014
651 × 651

(658 KB)

JustSomeBot... (Talk | contribs)
Reverted to version as of 08:17, June 20, 2014
08:17, June 20, 2014
651 × 651

(658 KB)

Mr. Whatever (Talk | contribs)
No eyes makes that image of lesser value. Also, that side of his face has yet to even be seen, and the anime's interpretation is not canon.
05:27, February 21, 2014
890 × 890

(457 KB)

Uknownada (Talk | contribs)
Reverted to version as of 05:25, February 21, 2014
05:26, February 21, 2014
279 × 279

(111 KB)

Uknownada (Talk | contribs)
Now here's a pic of him with the eyes. It's a bit blurry, and I like the other one better, but this is here just in case.
05:25, February 21, 2014
890 × 890

(457 KB)

Uknownada (Talk | contribs)
It needs to be updated for post-timeskip. Yeah, you can't see his eyes, but the facial hair is what's important.
02:05, January 19, 2014
651 × 651

(658 KB)

One Piece Wiki User (Talk | contribs)
lol that's not canon. eyes aren't shown either.
02:02, January 19, 2014
1,095 × 890

(836 KB)

M4ND0N (Talk | contribs)
HD? Feel free to revert it if it doesn't fall under the guidelines, but list why so I know.
01:20, January 19, 2014
651 × 651

(658 KB)

Yatanogarasu (Talk | contribs)
Reverted to version as of 00:48, October 14, 2013
01:16, January 19, 2014
380 × 297

(126 KB)

M4ND0N (Talk | contribs)
Cropped a little
01:16, January 19, 2014
413 × 300

(171 KB)

M4ND0N (Talk | contribs)
PTS
00:48, October 14, 2013
651 × 651

(658 KB)

One Piece Wiki User (Talk | contribs)
Too dark.
00:48, October 14, 2013
787 × 709

(309 KB)

M4ND0N (Talk | contribs)
Best timeskip photo we're likely to get of him in awhile
09:09, July 12, 2013
651 × 651

(658 KB)

WonderfulUnicorn (Talk | contribs)
Reverted to version as of 21:08, June 17, 2013 Seems like the Talk Page has agreed to me... The clear majority supports this version.
21:32, June 17, 2013
750 × 750

(474 KB)

Uknownada (Talk | contribs)
Reverted to version as of 21:48, June 16, 2013 ...No. The original is the version BEFORE the edit war. Switching to the pic that's being discussed doesn't make any sense.
21:08, June 17, 2013
651 × 651

(658 KB)

WonderfulUnicorn (Talk | contribs)
Reverted to version as of 21:39, June 16, 2013 Original = The uploaded Image, which caused the Edit War...
21:48, June 16, 2013
750 × 750

(474 KB)

Uknownada (Talk | contribs)
Reverted to version as of 21:31, June 16, 2013 Actual original.
21:39, June 16, 2013
651 × 651

(658 KB)

WonderfulUnicorn (Talk | contribs)
Reverted to version as of 19:27, June 16, 2013 Orginal for Edit War.
21:31, June 16, 2013
750 × 750

(474 KB)

M4ND0N (Talk | contribs)
Reverted to version as of 18:59, June 16, 2013 Think it's superior quality? Take it to talk. In the meantime it stays the way it is.
19:27, June 16, 2013
651 × 651

(658 KB)

WonderfulUnicorn (Talk | contribs)
Reverted to version as of 20:34, June 15, 2013 Damn glitch...
19:27, June 16, 2013
651 × 651

(658 KB)

WonderfulUnicorn (Talk | contribs)
Reverted to version as of 20:34, June 15, 2013 Firstly, THIS one is the one with clearly superior quality. Also, the point with a Portrait is to show his face, not his shirt. That's of no imortance.
18:59, June 16, 2013
750 × 750

(474 KB)

M4ND0N (Talk | contribs)
Reverted to version as of 18:41, June 15, 2013 Better quality, resembles how his face appears in the manga a little more and has the same amount of face and more of his shirt.
20:34, June 15, 2013
651 × 651

(658 KB)

Uknownada (Talk | contribs)
Reverted to version as of 10:51, June 15, 2013 This shows a LITTLE more of his face and is a LITTLE more detailed.
18:41, June 15, 2013
750 × 750

(474 KB)

M4ND0N (Talk | contribs)
Reverted to version as of 08:55, June 15, 2013 Episode 483
10:51, June 15, 2013
651 × 651

(658 KB)

MasterDeva (Talk | contribs)
Properly sourced.
08:55, June 15, 2013
750 × 750

(474 KB)

Staw-Hat Luffy (Talk | contribs)
Reverted to version as of 07:00, June 15, 2013 better
07:01, June 15, 2013
651 × 651

(658 KB)

Lelouch Di Britannia (Talk | contribs)
Reverted to version as of 01:00, June 15, 2013
07:00, June 15, 2013
750 × 750

(474 KB)

Rayleigh92 (Talk | contribs)
Reverted to version as of 12:28, November 13, 2011
01:00, June 15, 2013
651 × 651

(658 KB)

MasterDeva (Talk | contribs)
From Episode 513.
12:28, November 13, 2011
750 × 750

(474 KB)

Yatanogarasu (Talk | contribs)
Reverted to version as of 01:57, January 16, 2011 Uh, why?
08:17, November 13, 2011
400 × 400

(272 KB)

Genocyber (Talk | contribs)
Reverted to version as of 01:13, August 18, 2010
01:57, January 16, 2011
750 × 750

(755 KB)

Klobis (Talk | contribs)
22:59, January 10, 2011
548 × 548

(296 KB)

MasterDeva (Talk | contribs)
Akainu's face with a little bit more detail and from a closer look.
02:40, January 10, 2011
560 × 560

(476 KB)

Klobis (Talk | contribs)
Reverted to version as of 08:45, November 28, 2010
03:13, January 9, 2011
548 × 548

(296 KB)

YazzyDream (Talk | contribs)
03:12, January 9, 2011
602 × 602

(404 KB)

YazzyDream (Talk | contribs)
08:45, November 28, 2010
560 × 560

(476 KB)

Juracuille (Talk | contribs)
Reverted to version as of 02:35, November 28, 2010
08:43, November 28, 2010
350 × 350

(140 KB)

Juracuille (Talk | contribs)
Reverted to version as of 03:02, November 2, 2010
02:35, November 28, 2010
560 × 560

(476 KB)

Klobis (Talk | contribs)
03:02, November 2, 2010
350 × 350

(140 KB)

Klobis (Talk | contribs)
05:05, November 1, 2010
360 × 360

(128 KB)

Klobis (Talk | contribs)
05:05, November 1, 2010
360 × 360

(128 KB)

Klobis (Talk | contribs)
08:56, September 11, 2010
120 × 120

(34 KB)

Dml09 (Talk | contribs)
01:13, August 18, 2010
400 × 400

(272 KB)

Klobis (Talk | contribs)
03:18, August 11, 2010
209 × 209

(72 KB)

Yatanogarasu (Talk | contribs)
Correcting aspect ratio.
00:39, August 11, 2010
209 × 237

(79 KB)

Genocyber (Talk | contribs)
(Latest |
Earliest
) View (newer 50 |
older 50
) (
20
|
50
|
100
|
250
|
500
)
Metadata