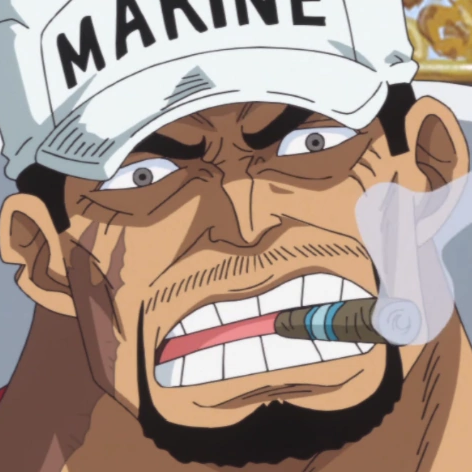 Licensing
Edit
Appears on these pages

of
Busoshoku Haki is a form of Haki that allows the user to use their spirit to create, in essence...

Logia is one of the three Devil Fruit types. It is characterized by giving its user the ability...

The Marine Headquarters is the main division of the Marine organization. They are considered...
See full list >
File history
Click on a date/time to view the file as it appeared at that time.
(Latest |
Earliest
) View (newer 50 |
older 50
) (
20
|
50
|
100
|
250
|
500
)
Date/Time
Thumbnail
Dimensions
User
Comment
current
09:12, April 10, 2016
580 × 580

(462 KB)

Sarutobii2 (Talk | contribs)
15:38, July 13, 2015
255 × 255

(156 KB)

Awaikage (Talk | contribs)
00:08, July 11, 2015
274 × 274

(94 KB)

JustSomeDude... (Talk | contribs)
Reverted to version as of 14:47, July 9, 2015 Hats aren't an essential part of portaits.
03:04, July 10, 2015
349 × 349

(125 KB)

Klobis (Talk | contribs)
14:47, July 9, 2015
274 × 274

(94 KB)

JustSomeDude... (Talk | contribs)
[http://onepiece.wikia.com/index.php?title=File_talk%3ASakazuki_Anime_Post_Timeskip_Infobox.png&diff=1125473&oldid=1125379 Called it]
21:06, December 6, 2014
651 × 651

(658 KB)

JustSomeBot... (Talk | contribs)
Reverted to version as of 08:17, June 20, 2014
08:17, June 20, 2014
651 × 651

(658 KB)

Mr. Whatever (Talk | contribs)
No eyes makes that image of lesser value. Also, that side of his face has yet to even be seen, and the anime's interpretation is not canon.
05:27, February 21, 2014
890 × 890

(457 KB)

Uknownada (Talk | contribs)
Reverted to version as of 05:25, February 21, 2014
05:26, February 21, 2014
279 × 279

(111 KB)

Uknownada (Talk | contribs)
Now here's a pic of him with the eyes. It's a bit blurry, and I like the other one better, but this is here just in case.
05:25, February 21, 2014
890 × 890

(457 KB)

Uknownada (Talk | contribs)
It needs to be updated for post-timeskip. Yeah, you can't see his eyes, but the facial hair is what's important.
02:05, January 19, 2014
651 × 651

(658 KB)

One Piece Wiki User (Talk | contribs)
lol that's not canon. eyes aren't shown either.
02:02, January 19, 2014
1,095 × 890

(836 KB)

M4ND0N (Talk | contribs)
HD? Feel free to revert it if it doesn't fall under the guidelines, but list why so I know.
01:20, January 19, 2014
651 × 651

(658 KB)

Yatanogarasu (Talk | contribs)
Reverted to version as of 00:48, October 14, 2013
01:16, January 19, 2014
380 × 297

(126 KB)

M4ND0N (Talk | contribs)
Cropped a little
01:16, January 19, 2014
413 × 300

(171 KB)

M4ND0N (Talk | contribs)
PTS
00:48, October 14, 2013
651 × 651

(658 KB)

One Piece Wiki User (Talk | contribs)
Too dark.
00:48, October 14, 2013
787 × 709

(309 KB)

M4ND0N (Talk | contribs)
Best timeskip photo we're likely to get of him in awhile
09:09, July 12, 2013
651 × 651

(658 KB)

WonderfulUnicorn (Talk | contribs)
Reverted to version as of 21:08, June 17, 2013 Seems like the Talk Page has agreed to me... The clear majority supports this version.
21:32, June 17, 2013
750 × 750

(474 KB)

Uknownada (Talk | contribs)
Reverted to version as of 21:48, June 16, 2013 ...No. The original is the version BEFORE the edit war. Switching to the pic that's being discussed doesn't make any sense.
21:08, June 17, 2013
651 × 651

(658 KB)

WonderfulUnicorn (Talk | contribs)
Reverted to version as of 21:39, June 16, 2013 Original = The uploaded Image, which caused the Edit War...
21:48, June 16, 2013
750 × 750

(474 KB)

Uknownada (Talk | contribs)
Reverted to version as of 21:31, June 16, 2013 Actual original.
21:39, June 16, 2013
651 × 651

(658 KB)

WonderfulUnicorn (Talk | contribs)
Reverted to version as of 19:27, June 16, 2013 Orginal for Edit War.
21:31, June 16, 2013
750 × 750

(474 KB)

M4ND0N (Talk | contribs)
Reverted to version as of 18:59, June 16, 2013 Think it's superior quality? Take it to talk. In the meantime it stays the way it is.
19:27, June 16, 2013
651 × 651

(658 KB)

WonderfulUnicorn (Talk | contribs)
Reverted to version as of 20:34, June 15, 2013 Damn glitch...
19:27, June 16, 2013
651 × 651

(658 KB)

WonderfulUnicorn (Talk | contribs)
Reverted to version as of 20:34, June 15, 2013 Firstly, THIS one is the one with clearly superior quality. Also, the point with a Portrait is to show his face, not his shirt. That's of no imortance.
18:59, June 16, 2013
750 × 750

(474 KB)

M4ND0N (Talk | contribs)
Reverted to version as of 18:41, June 15, 2013 Better quality, resembles how his face appears in the manga a little more and has the same amount of face and more of his shirt.
20:34, June 15, 2013
651 × 651

(658 KB)

Uknownada (Talk | contribs)
Reverted to version as of 10:51, June 15, 2013 This shows a LITTLE more of his face and is a LITTLE more detailed.
18:41, June 15, 2013
750 × 750

(474 KB)

M4ND0N (Talk | contribs)
Reverted to version as of 08:55, June 15, 2013 Episode 483
10:51, June 15, 2013
651 × 651

(658 KB)

MasterDeva (Talk | contribs)
Properly sourced.
08:55, June 15, 2013
750 × 750

(474 KB)

Staw-Hat Luffy (Talk | contribs)
Reverted to version as of 07:00, June 15, 2013 better
07:01, June 15, 2013
651 × 651

(658 KB)

Lelouch Di Britannia (Talk | contribs)
Reverted to version as of 01:00, June 15, 2013
07:00, June 15, 2013
750 × 750

(474 KB)

Rayleigh92 (Talk | contribs)
Reverted to version as of 12:28, November 13, 2011
01:00, June 15, 2013
651 × 651

(658 KB)

MasterDeva (Talk | contribs)
From Episode 513.
12:28, November 13, 2011
750 × 750

(474 KB)

Yatanogarasu (Talk | contribs)
Reverted to version as of 01:57, January 16, 2011 Uh, why?
08:17, November 13, 2011
400 × 400

(272 KB)

Genocyber (Talk | contribs)
Reverted to version as of 01:13, August 18, 2010
01:57, January 16, 2011
750 × 750

(755 KB)

Klobis (Talk | contribs)
22:59, January 10, 2011
548 × 548

(296 KB)

MasterDeva (Talk | contribs)
Akainu's face with a little bit more detail and from a closer look.
02:40, January 10, 2011
560 × 560

(476 KB)

Klobis (Talk | contribs)
Reverted to version as of 08:45, November 28, 2010
03:13, January 9, 2011
548 × 548

(296 KB)

YazzyDream (Talk | contribs)
03:12, January 9, 2011
602 × 602

(404 KB)

YazzyDream (Talk | contribs)
08:45, November 28, 2010
560 × 560

(476 KB)

Juracuille (Talk | contribs)
Reverted to version as of 02:35, November 28, 2010
08:43, November 28, 2010
350 × 350

(140 KB)

Juracuille (Talk | contribs)
Reverted to version as of 03:02, November 2, 2010
02:35, November 28, 2010
560 × 560

(476 KB)

Klobis (Talk | contribs)
03:02, November 2, 2010
350 × 350

(140 KB)

Klobis (Talk | contribs)
05:05, November 1, 2010
360 × 360

(128 KB)

Klobis (Talk | contribs)
05:05, November 1, 2010
360 × 360

(128 KB)

Klobis (Talk | contribs)
08:56, September 11, 2010
120 × 120

(34 KB)

Dml09 (Talk | contribs)
01:13, August 18, 2010
400 × 400

(272 KB)

Klobis (Talk | contribs)
03:18, August 11, 2010
209 × 209

(72 KB)

Yatanogarasu (Talk | contribs)
Correcting aspect ratio.
00:39, August 11, 2010
209 × 237

(79 KB)

Genocyber (Talk | contribs)
(Latest |
Earliest
) View (newer 50 |
older 50
) (
20
|
50
|
100
|
250
|
500
)
Metadata