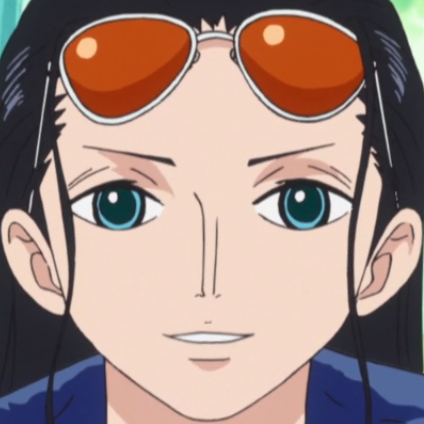 No higher resolution available.
Description
Edit
Nico Robin's post timeskip portrait.
Licensing
Edit
Appears on these pages

of
Criminal is the brand name of a fashion line. Criminal's origins are on Fishman Island, the...

Paramecia is one of the three Devil Fruit types. These fruits give the users a power that can...

D: Odacchi!! Let's take a picture together!! The words will be—of course ONE...
See full list >
Appears on these wikis

of
One Piece Encyclopédie

A cause de certains problèmes personnels, je me vois dans l'obligation de (sur)vivre sans...
File history
Click on a date/time to view the file as it appeared at that time.
(Latest |
Earliest
) View (newer 50 |
older 50
) (
20
|
50
|
100
|
250
|
500
)
Date/Time
Thumbnail
Dimensions
User
Comment
current
21:19, May 21, 2017
120 × 120

(41 KB)

Awaikage (Talk | contribs)
Original stays when there's a debate.
20:56, May 21, 2017
604 × 604

(325 KB)

CharlotteSmoothie (Talk | contribs)
Reverted to version as of 00:57, May 8, 2017 the talk was about a different anime pic
13:00, May 14, 2017
120 × 120

(41 KB)

Furisu (Talk | contribs)
Reverted to version as of 15:20, December 18, 2016 Talk page.
00:57, May 8, 2017
604 × 604

(325 KB)

CharlotteSmoothie (Talk | contribs)
According to the discussion, the eye color is not important
15:20, December 18, 2016
120 × 120

(41 KB)

Xilinoc (Talk | contribs)
I believe this has to do with eye color rather than hairstyle
08:22, December 18, 2016
604 × 604

(325 KB)

Sarutobii2 (Talk | contribs)
Current hairstyle.
22:50, October 23, 2016
120 × 120

(41 KB)

Kaido King of the Beasts (Talk | contribs)
Reverted to version as of 03:36, September 25, 2015
22:49, October 23, 2016
767 × 766

(375 KB)

Kaido King of the Beasts (Talk | contribs)
for talk
03:36, September 25, 2015
120 × 120

(41 KB)

JustSomeDude... (Talk | contribs)
Reverted to version as of 00:13, September 18, 2015 Don't just zoom in
18:16, September 24, 2015
120 × 120

(34 KB)

Capitán Noot (Talk | contribs)
00:13, September 18, 2015
120 × 120

(41 KB)

JustSomeDude... (Talk | contribs)
120px
00:11, September 18, 2015
103 × 103

(30 KB)

JustSomeDude... (Talk | contribs)
Better angle, though small
22:15, September 16, 2015
150 × 150

(59 KB)

Kaizoku-Hime (Talk | contribs)
Eye color.
16:37, September 16, 2015
422 × 422

(176 KB)

Vaniks (Talk | contribs)
Reverted to version as of 20:36, July 31, 2013
20:39, July 31, 2013
150 × 150

(59 KB)

One Piece Wiki User (Talk | contribs)
Wrong. That's also disgusting.
20:36, July 31, 2013
422 × 422

(176 KB)

AsuraDrago (Talk | contribs)
really doesn't matter, as long as we see a good angle of her face is all that matters. no need to be so obsessive compulsive over it. its her face, thats all that matters.
20:07, July 31, 2013
150 × 150

(59 KB)

Kaizoku-Hime (Talk | contribs)
Brown eyes, not blue.
18:48, July 31, 2013
422 × 422

(176 KB)

AsuraDrago (Talk | contribs)
Better quality compared to previous one, angle is better. as long as we see her face thats all that matters.
08:50, June 18, 2013
150 × 150

(59 KB)

MasterDeva (Talk | contribs)
Reverted to the original version due to edit war.
05:51, June 18, 2013
459 × 459

(170 KB)

Genocyber (Talk | contribs)
Take it to talk page.
05:46, June 18, 2013
150 × 150

(59 KB)

Kaizoku-Hime (Talk | contribs)
Brown eyes, not blue.
05:09, June 18, 2013
459 × 459

(170 KB)

Genocyber (Talk | contribs)
Reverted to version as of 21:14, April 19, 2013
23:18, June 16, 2013
150 × 150

(59 KB)

Furisu (Talk | contribs)
Reverted to version as of 09:17, May 1, 2013 The eyecolor.
23:12, June 16, 2013
829 × 720

(500 KB)

AsuraDrago (Talk | contribs)
09:17, May 1, 2013
150 × 150

(59 KB)

Staw-Hat Luffy (Talk | contribs)
Reverted to version as of 21:59, April 29, 2013 opps they're blue
09:16, May 1, 2013
422 × 422

(176 KB)

Staw-Hat Luffy (Talk | contribs)
07:49, April 30, 2013
150 × 150

(59 KB)

Staw-Hat Luffy (Talk | contribs)
Reverted to version as of 21:59, April 29, 2013
07:48, April 30, 2013
547 × 547

(225 KB)

Staw-Hat Luffy (Talk | contribs)
21:59, April 29, 2013
150 × 150

(59 KB)

One Piece Wiki User (Talk | contribs)
Reverted to version as of 20:44, April 29, 2013 Reverted to image before the war.
21:55, April 29, 2013
343 × 343

(128 KB)

Staw-Hat Luffy (Talk | contribs)
Reverted to version as of 19:11, April 29, 2013
20:44, April 29, 2013
150 × 150

(59 KB)

Shenduk (Talk | contribs)
Hair looks all wrong in previous pic, yet there's no problem with this pic before you guys started flooding with non-canon pics (Z). I'm of opinion that manga colored pic > anime pic > manga uncolored pic
19:11, April 29, 2013
343 × 343

(128 KB)

Staw-Hat Luffy (Talk | contribs)
at least find a good portrait
18:59, April 29, 2013
150 × 150

(39 KB)

Totoofze47 (Talk | contribs)
Reverted to version as of 18:41, April 29, 2013 (Yes, you can tell the difference. Besides, the point is that she isn't the right age in your portrait.)
18:48, April 29, 2013
540 × 540

(288 KB)

Staw-Hat Luffy (Talk | contribs)
Reverted to version as of 18:39, April 29, 2013 you can't tell the difference
18:41, April 29, 2013
150 × 150

(39 KB)

Totoofze47 (Talk | contribs)
Reverted to version as of 18:37, April 29, 2013 (See the talk page)
18:39, April 29, 2013
540 × 540

(288 KB)

Staw-Hat Luffy (Talk | contribs)
Reverted to version as of 18:34, April 29, 2013
18:37, April 29, 2013
150 × 150

(39 KB)

Totoofze47 (Talk | contribs)
A picture of her normal self from Film Z. I hope this image is OK.
18:34, April 29, 2013
540 × 540

(288 KB)

Staw-Hat Luffy (Talk | contribs)
Reverted to version as of 16:28, April 29, 2013
18:31, April 29, 2013
150 × 150

(59 KB)

Totoofze47 (Talk | contribs)
Reverted to version as of 16:25, April 29, 2013
16:28, April 29, 2013
540 × 540

(288 KB)

Staw-Hat Luffy (Talk | contribs)
finally
16:25, April 29, 2013
150 × 150

(59 KB)

Staw-Hat Luffy (Talk | contribs)
Reverted to version as of 16:19, April 29, 2013
16:25, April 29, 2013
666 × 539

(324 KB)

Staw-Hat Luffy (Talk | contribs)
opps
16:19, April 29, 2013
150 × 150

(59 KB)

One Piece Wiki User (Talk | contribs)
Reverted to version as of 21:15, April 19, 2013 Wrong dimensions, Should be a square.
16:18, April 29, 2013
666 × 539

(324 KB)

Staw-Hat Luffy (Talk | contribs)
from film z,black eyes
21:15, April 19, 2013
150 × 150

(59 KB)

One Piece Wiki User (Talk | contribs)
Reverted to version as of 21:13, April 19, 2013 You're color blind. Those are blue eyes
21:15, April 19, 2013
150 × 150

(59 KB)

DancePowderer (Talk | contribs)
Reverted to version as of 21:13, April 19, 2013
21:14, April 19, 2013
459 × 459

(170 KB)

Genocyber (Talk | contribs)
Use something else besides this that has brown.
21:13, April 19, 2013
150 × 150

(59 KB)

One Piece Wiki User (Talk | contribs)
Reverted to version as of 21:06, April 19, 2013 Oda's color is the correct color. Brown.
21:09, April 19, 2013
459 × 459

(170 KB)

Genocyber (Talk | contribs)
They've always been blue in the anime. Colorist mistake.
21:06, April 19, 2013
150 × 150

(59 KB)

One Piece Wiki User (Talk | contribs)
Reverted to version as of 18:23, April 19, 2013 Blue*
(Latest |
Earliest
) View (newer 50 |
older 50
) (
20
|
50
|
100
|
250
|
500
)