Nico Robin Post Timeskip Portrait.png
Talk

94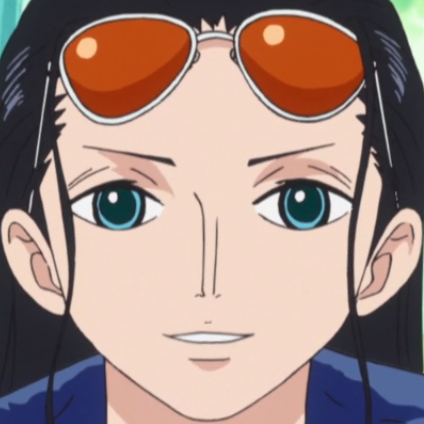 No higher resolution available.
Description
Edit
Nico Robin's post timeskip portrait.
Licensing
Edit
Appears on these pages

of
Criminal is the brand name of a fashion line. Criminal's origins are on Fishman Island, the...

Paramecia is one of the three Devil Fruit types. These fruits give the users a power that can...

D: Odacchi!! Let's take a picture together!! The words will be—of course ONE...
See full list >
Appears on these wikis

of
One Piece Encyclopédie

Bonjour, je suis Bella Foster,j'ai...Enfaite,pourquoi je vais te le dire? Si vous voulez plus me...
File history
Click on a date/time to view the file as it appeared at that time.
(Latest |
Earliest
) View (newer 50 |
older 50
) (
20
|
50
|
100
|
250
|
500
)
Date/Time
Thumbnail
Dimensions
User
Comment
current
21:19, May 21, 2017
120 × 120

(41 KB)

Awaikage (Talk | contribs)
Original stays when there's a debate.
20:56, May 21, 2017
604 × 604

(325 KB)

CharlotteSmoothie (Talk | contribs)
Reverted to version as of 00:57, May 8, 2017 the talk was about a different anime pic
13:00, May 14, 2017
120 × 120

(41 KB)

Furisu (Talk | contribs)
Reverted to version as of 15:20, December 18, 2016 Talk page.
00:57, May 8, 2017
604 × 604

(325 KB)

CharlotteSmoothie (Talk | contribs)
According to the discussion, the eye color is not important
15:20, December 18, 2016
120 × 120

(41 KB)

Xilinoc (Talk | contribs)
I believe this has to do with eye color rather than hairstyle
08:22, December 18, 2016
604 × 604

(325 KB)

Sarutobii2 (Talk | contribs)
Current hairstyle.
22:50, October 23, 2016
120 × 120

(41 KB)

Kaido King of the Beasts (Talk | contribs)
Reverted to version as of 03:36, September 25, 2015
22:49, October 23, 2016
767 × 766

(375 KB)

Kaido King of the Beasts (Talk | contribs)
for talk
03:36, September 25, 2015
120 × 120

(41 KB)

JustSomeDude... (Talk | contribs)
Reverted to version as of 00:13, September 18, 2015 Don't just zoom in
18:16, September 24, 2015
120 × 120

(34 KB)

Capitán Noot (Talk | contribs)
00:13, September 18, 2015
120 × 120

(41 KB)

JustSomeDude... (Talk | contribs)
120px
00:11, September 18, 2015
103 × 103

(30 KB)

JustSomeDude... (Talk | contribs)
Better angle, though small
22:15, September 16, 2015
150 × 150

(59 KB)

Kaizoku-Hime (Talk | contribs)
Eye color.
16:37, September 16, 2015
422 × 422

(176 KB)

Vaniks (Talk | contribs)
Reverted to version as of 20:36, July 31, 2013
20:39, July 31, 2013
150 × 150

(59 KB)

One Piece Wiki User (Talk | contribs)
Wrong. That's also disgusting.
20:36, July 31, 2013
422 × 422

(176 KB)

AsuraDrago (Talk | contribs)
really doesn't matter, as long as we see a good angle of her face is all that matters. no need to be so obsessive compulsive over it. its her face, thats all that matters.
20:07, July 31, 2013
150 × 150

(59 KB)

Kaizoku-Hime (Talk | contribs)
Brown eyes, not blue.
18:48, July 31, 2013
422 × 422

(176 KB)

AsuraDrago (Talk | contribs)
Better quality compared to previous one, angle is better. as long as we see her face thats all that matters.
08:50, June 18, 2013
150 × 150

(59 KB)

MasterDeva (Talk | contribs)
Reverted to the original version due to edit war.
05:51, June 18, 2013
459 × 459

(170 KB)

Genocyber (Talk | contribs)
Take it to talk page.
05:46, June 18, 2013
150 × 150

(59 KB)

Kaizoku-Hime (Talk | contribs)
Brown eyes, not blue.
05:09, June 18, 2013
459 × 459

(170 KB)

Genocyber (Talk | contribs)
Reverted to version as of 21:14, April 19, 2013
23:18, June 16, 2013
150 × 150

(59 KB)

Furisu (Talk | contribs)
Reverted to version as of 09:17, May 1, 2013 The eyecolor.
23:12, June 16, 2013
829 × 720

(500 KB)

AsuraDrago (Talk | contribs)
09:17, May 1, 2013
150 × 150

(59 KB)

Staw-Hat Luffy (Talk | contribs)
Reverted to version as of 21:59, April 29, 2013 opps they're blue
09:16, May 1, 2013
422 × 422

(176 KB)

Staw-Hat Luffy (Talk | contribs)
07:49, April 30, 2013
150 × 150

(59 KB)

Staw-Hat Luffy (Talk | contribs)
Reverted to version as of 21:59, April 29, 2013
07:48, April 30, 2013
547 × 547

(225 KB)

Staw-Hat Luffy (Talk | contribs)
21:59, April 29, 2013
150 × 150

(59 KB)

One Piece Wiki User (Talk | contribs)
Reverted to version as of 20:44, April 29, 2013 Reverted to image before the war.
21:55, April 29, 2013
343 × 343

(128 KB)

Staw-Hat Luffy (Talk | contribs)
Reverted to version as of 19:11, April 29, 2013
20:44, April 29, 2013
150 × 150

(59 KB)

Shenduk (Talk | contribs)
Hair looks all wrong in previous pic, yet there's no problem with this pic before you guys started flooding with non-canon pics (Z). I'm of opinion that manga colored pic > anime pic > manga uncolored pic
19:11, April 29, 2013
343 × 343

(128 KB)

Staw-Hat Luffy (Talk | contribs)
at least find a good portrait
18:59, April 29, 2013
150 × 150

(39 KB)

Totoofze47 (Talk | contribs)
Reverted to version as of 18:41, April 29, 2013 (Yes, you can tell the difference. Besides, the point is that she isn't the right age in your portrait.)
18:48, April 29, 2013
540 × 540

(288 KB)

Staw-Hat Luffy (Talk | contribs)
Reverted to version as of 18:39, April 29, 2013 you can't tell the difference
18:41, April 29, 2013
150 × 150

(39 KB)

Totoofze47 (Talk | contribs)
Reverted to version as of 18:37, April 29, 2013 (See the talk page)
18:39, April 29, 2013
540 × 540

(288 KB)

Staw-Hat Luffy (Talk | contribs)
Reverted to version as of 18:34, April 29, 2013
18:37, April 29, 2013
150 × 150

(39 KB)

Totoofze47 (Talk | contribs)
A picture of her normal self from Film Z. I hope this image is OK.
18:34, April 29, 2013
540 × 540

(288 KB)

Staw-Hat Luffy (Talk | contribs)
Reverted to version as of 16:28, April 29, 2013
18:31, April 29, 2013
150 × 150

(59 KB)

Totoofze47 (Talk | contribs)
Reverted to version as of 16:25, April 29, 2013
16:28, April 29, 2013
540 × 540

(288 KB)

Staw-Hat Luffy (Talk | contribs)
finally
16:25, April 29, 2013
150 × 150

(59 KB)

Staw-Hat Luffy (Talk | contribs)
Reverted to version as of 16:19, April 29, 2013
16:25, April 29, 2013
666 × 539

(324 KB)

Staw-Hat Luffy (Talk | contribs)
opps
16:19, April 29, 2013
150 × 150

(59 KB)

One Piece Wiki User (Talk | contribs)
Reverted to version as of 21:15, April 19, 2013 Wrong dimensions, Should be a square.
16:18, April 29, 2013
666 × 539

(324 KB)

Staw-Hat Luffy (Talk | contribs)
from film z,black eyes
21:15, April 19, 2013
150 × 150

(59 KB)

One Piece Wiki User (Talk | contribs)
Reverted to version as of 21:13, April 19, 2013 You're color blind. Those are blue eyes
21:15, April 19, 2013
150 × 150

(59 KB)

DancePowderer (Talk | contribs)
Reverted to version as of 21:13, April 19, 2013
21:14, April 19, 2013
459 × 459

(170 KB)

Genocyber (Talk | contribs)
Use something else besides this that has brown.
21:13, April 19, 2013
150 × 150

(59 KB)

One Piece Wiki User (Talk | contribs)
Reverted to version as of 21:06, April 19, 2013 Oda's color is the correct color. Brown.
21:09, April 19, 2013
459 × 459

(170 KB)

Genocyber (Talk | contribs)
They've always been blue in the anime. Colorist mistake.
21:06, April 19, 2013
150 × 150

(59 KB)

One Piece Wiki User (Talk | contribs)
Reverted to version as of 18:23, April 19, 2013 Blue*
(Latest |
Earliest
) View (newer 50 |
older 50
) (
20
|
50
|
100
|
250
|
500
)