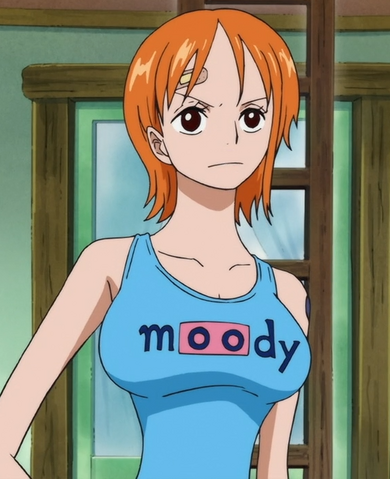 Description
Edit
Nami's last appearance before the time skip.
From Episode 516.
Licensing
Edit
Appears on these pages

of
This is where the important stuff happens. Recently I have made it my mission to clean up files...

Forums: Index → Wikia Appearance →  Pre/Post timeskip switch Note: This topic has been archived...
File history
Click on a date/time to view the file as it appeared at that time.
Date/Time
Thumbnail
Dimensions
User
Comment
current
10:29, August 20, 2012
571 × 701

(399 KB)

KuroAshi98 (Talk | contribs)
Reverted to version as of 01:45, August 19, 2012
09:58, August 20, 2012
226 × 560

(109 KB)

FanDibus (Talk | contribs)
full view
01:45, August 19, 2012
571 × 701

(399 KB)

KuroAshi98 (Talk | contribs)
Anime profile shot.
21:58, July 21, 2012
226 × 560

(109 KB)

Uknownada (Talk | contribs)
Reverted to version as of 19:51, July 21, 2012 Too flashy, goes against the guidelines. Keep it on this pic until the discussion is decided.
20:17, July 21, 2012
2,000 × 3,012

(830 KB)

Brain.Y.Z (Talk | contribs)
better resolution
19:57, July 21, 2012
728 × 1,096

(302 KB)

Brain.Y.Z (Talk | contribs)
better version
19:51, July 21, 2012
226 × 560

(109 KB)

Kaizoku-Hime (Talk | contribs)
It's not the outfit, it's the art-style, Oda's art developed over the years & this 1's closer 2 the new style.
19:22, July 21, 2012
602 × 1,416

(543 KB)

Brain.Y.Z (Talk | contribs)
Y U no like the original outfit
16:46, July 21, 2012
226 × 560

(109 KB)

SeaTerror (Talk | contribs)
Reverted to version as of 08:24, July 21, 2012
13:43, July 21, 2012
602 × 1,416

(543 KB)

Brain.Y.Z (Talk | contribs)
Original outfit
08:24, July 21, 2012
226 × 560

(109 KB)

Calua (Talk | contribs)
The gold-ish background looks terrible.
04:38, July 21, 2012
314 × 1,026

(136 KB)

Sonic2479 (Talk | contribs)
This picture looks at least somewhat like Oda's developed art style and how Nami looks like throughout most of the pre-timeskip, just with her original clothes.
21:53, July 20, 2012
226 × 560

(109 KB)

Calua (Talk | contribs)
Because if you notice Oda's art style developed and this picture is how Nami looks like throughout most of the pre-timeskip.
14:25, July 20, 2012
602 × 1,416

(543 KB)

Iwanna B. Kuma (Talk | contribs)
Why are you reverting it? If you please give me a reason then i suppose i will stop reverting it as well and we can have an agreement.
00:21, July 14, 2012
226 × 560

(109 KB)

Calua (Talk | contribs)
Reverted to version as of 01:14, July 11, 2012
00:21, July 14, 2012
226 × 560

(109 KB)

Calua (Talk | contribs)
Reverted to version as of 01:14, July 11, 2012
03:38, July 11, 2012
602 × 1,416

(543 KB)

Uknownada (Talk | contribs)
Reverted to version as of 00:35, July 11, 2012 This was her initial outfit, and what she's seen wearing the highest number of times, whether it be in the main series, promos, movies, etc. The Enies Lobby outfit should be in the gallery.
01:14, July 11, 2012
226 × 560

(109 KB)

Defchris (Talk | contribs)
Reverted to version as of 04:59, June 27, 2009 - the Enies Lobby outfit isn't less accurate than the pre Arlong Park.
00:35, July 11, 2012
602 × 1,416

(543 KB)

Iwanna B. Kuma (Talk | contribs)
improved
00:32, July 11, 2012
602 × 1,416

(576 KB)

Iwanna B. Kuma (Talk | contribs)
Let's stick to a more accurate version of Nami's original pre-timeskip outfit. That one was just her outfit in Enies Lobby.
04:59, June 27, 2009
226 × 560

(109 KB)

Coldhandzz (Talk | contribs)
Metadata