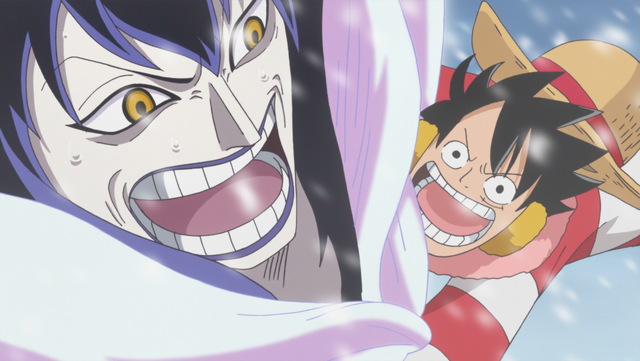 Description
Edit
Monkey D. Luffy captures Caesar Clown.
From Episode 596.
From Chapter 670.
Licensing
Edit
Appears on these pages

of
Caesar Clown, who was referred to as "Master" by his subordinates, is a demented scientist, a...

At some point in the timeskip, Luffy developed Gear Fourth in order to help him subdue the...

The Punk Hazard Arc is the twenty-sixth story arc in the series and the first in the Dressrosa...
File history
Click on a date/time to view the file as it appeared at that time.
Date/Time
Thumbnail
Dimensions
User
Comment
current
19:20, December 6, 2014
1,280 × 720

(858 KB)

Kopcap94 (Talk | contribs)
00:14, September 26, 2014
1,280 × 720

(858 KB)

Videogamep (Talk | contribs)
Reverted to version as of 00:12, September 26, 2014
22:53, October 16, 2013
1,280 × 720

(858 KB)

One Piece Wiki User (Talk | contribs)
More zoomed out.
16:06, May 26, 2013
1,280 × 720

(992 KB)

Staw-Hat Luffy (Talk | contribs)
Reverted to version as of 15:10, May 21, 2013
15:23, May 21, 2013
622 × 693

(109 KB)

Staw-Hat Luffy (Talk | contribs)
Reverted to version as of 14:48, May 21, 2013 just keep the original till the poll is over. Won't last long
15:10, May 21, 2013
1,280 × 720

(992 KB)

Pandawarrior (Talk | contribs)
Reverted to version as of 14:39, May 21, 2013 the discussion IS pretty much over. It's only you that's being stubborn. Not everything needs to be polled
14:48, May 21, 2013
622 × 693

(109 KB)

One Piece Wiki User (Talk | contribs)
You keep reverting when the talk discussion just isn't over. If you want the war to stop, wait for more input.
14:39, May 21, 2013
1,280 × 720

(992 KB)

Staw-Hat Luffy (Talk | contribs)
Reverted to version as of 14:35, May 21, 2013 DO YOU?
14:37, May 21, 2013
622 × 693

(109 KB)

One Piece Wiki User (Talk | contribs)
It is still ongoing. YOU DO NOT DECIDE WHEN IT ENDS
14:35, May 21, 2013
1,280 × 720

(992 KB)

Staw-Hat Luffy (Talk | contribs)
Reverted to version as of 14:18, May 21, 2013 oh it is
14:27, May 21, 2013
622 × 693

(109 KB)

One Piece Wiki User (Talk | contribs)
The discussion is not over.
14:18, May 21, 2013
1,280 × 720

(992 KB)

Staw-Hat Luffy (Talk | contribs)
Reverted to version as of 12:40, May 21, 2013 The talk page agreed
14:03, May 21, 2013
622 × 693

(109 KB)

One Piece Wiki User (Talk | contribs)
Doesn't matter. Discussions don't last 5 minutes. Leave it on original until more people come.
12:40, May 21, 2013
1,280 × 720

(992 KB)

Staw-Hat Luffy (Talk | contribs)
Reverted to version as of 12:30, May 21, 2013 4 people agreed, nobody dissagred. You never used the talk page
12:33, May 21, 2013
622 × 693

(109 KB)

One Piece Wiki User (Talk | contribs)
Discussion isn't over. Stop edit warring.
12:30, May 21, 2013
1,280 × 720

(992 KB)

Staw-Hat Luffy (Talk | contribs)
Reverted to version as of 06:25, May 21, 2013 the talk page agreed
12:22, May 21, 2013
622 × 693

(109 KB)

One Piece Wiki User (Talk | contribs)
Stop edit warring. This is the original.
06:25, May 21, 2013
1,280 × 720

(992 KB)

Staw-Hat Luffy (Talk | contribs)
Reverted to version as of 16:48, May 20, 2013
20:58, May 20, 2013
622 × 693

(109 KB)

One Piece Wiki User (Talk | contribs)
Original. Use talk page if you want to continue. Anime is missing Caesar's face effects.
20:57, May 20, 2013
1,280 × 720

(992 KB)

Gojita (Talk | contribs)
Reverted to version as of 16:48, May 20, 2013 i dont see the difference
17:00, May 20, 2013
622 × 693

(109 KB)

One Piece Wiki User (Talk | contribs)
Original. That's still awful.
16:48, May 20, 2013
1,280 × 720

(992 KB)

BroOk (Talk | contribs)
anime; HD
12:55, May 20, 2013
622 × 693

(109 KB)

One Piece Wiki User (Talk | contribs)
Awful
12:20, May 20, 2013
1,714 × 966

(1.71 MB)

Strawhat1 (Talk | contribs)
anime
22:26, November 12, 2012
622 × 693

(109 KB)

Calua (Talk | contribs)
Volume version.
03:11, June 10, 2012
715 × 713

(60 KB)

Klobis (Talk | contribs)
07:56, June 7, 2012
605 × 435

(172 KB)

Arapel (Talk | contribs)