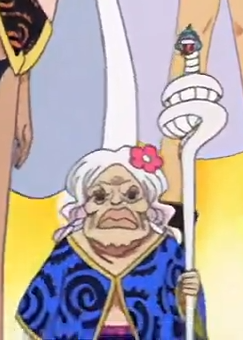 No higher resolution available.
Ahoy! Did you take off the lens cap!?

This is a low quality file.
Please, upload a better quality version of "Gloriosa blue.png".
From Share the World!
Licensing
Edit
Appears on these pages

of
Former Empress Gloriosa is one of the former empresses of the Kuja tribe before Boa Hancock took...
File history
Click on a date/time to view the file as it appeared at that time.
Date/Time
Thumbnail
Dimensions
User
Comment
current
09:45, January 5, 2013
123 × 167

(38 KB)

One Piece Wiki User (Talk | contribs)
01:05, December 30, 2012
107 × 148

(27 KB)

Calua (Talk | contribs)
Reverted to version as of 00:13, December 30, 2012 DVD verison then, anything other than that one.
00:31, December 30, 2012
143 × 214

(59 KB)

One Piece Wiki User (Talk | contribs)
Reverted to version as of 20:59, December 28, 2012 This is raw...
00:13, December 30, 2012
107 × 148

(27 KB)

Calua (Talk | contribs)
Reverted to version as of 20:52, December 28, 2012 Four against you, Galaxy, give up. It looks terrible in the end, not worth having it in her gallery. Better to use a raw instead a scanlation.
20:59, December 28, 2012
143 × 214

(59 KB)

One Piece Wiki User (Talk | contribs)
Reverted to version as of 18:21, December 28, 2012 Nothing is obscured. The point of the picture is to show the COLOR SCHEME. Not her face. LQ images are NOT preferred.
20:52, December 28, 2012
107 × 148

(27 KB)

Uknownada (Talk | contribs)
Reverted to version as of 18:01, December 28, 2012 Low quality pic or obscure pic. Pick your poison. Just settle with the low quality pic for now. It's better to have low pixels than to be oscured.
18:21, December 28, 2012
143 × 214

(59 KB)

One Piece Wiki User (Talk | contribs)
Until someone can find the dvd version that has better quality, this is the preferable version.
18:01, December 28, 2012
107 × 148

(27 KB)

One Piece Wiki User (Talk | contribs)
17:55, December 28, 2012
146 × 232

(43 KB)

JustSomeDude... (Talk | contribs)
Reverted to version as of 00:26, December 16, 2012 The whole snake staff is part of the ourfit.
12:05, December 28, 2012
103 × 103

(21 KB)

One Piece Wiki User (Talk | contribs)
00:26, December 16, 2012
146 × 232

(43 KB)

Uknownada (Talk | contribs)
Reverted to version as of 00:21, December 16, 2012 When the picture is covered by something that shouldn't be there, that's low priority.
00:23, December 16, 2012
140 × 140

(41 KB)

One Piece Wiki User (Talk | contribs)
Reverted to version as of 23:56, December 15, 2012 Dude you can't be serious. LQ files are ALWAYS below other files in every case.
00:21, December 16, 2012
146 × 232

(84 KB)

Uknownada (Talk | contribs)
Reverted to version as of 00:15, December 16, 2012 Now THAT just ruins the point of the image!
00:18, December 16, 2012
141 × 114

(36 KB)

One Piece Wiki User (Talk | contribs)
k
00:15, December 16, 2012
146 × 232

(84 KB)

Uknownada (Talk | contribs)
Reverted to version as of 23:54, December 15, 2012 Then find a pic where it isn't in the way. A low quality image would be a better option, in this case.
23:56, December 15, 2012
140 × 140

(41 KB)

One Piece Wiki User (Talk | contribs)
Reverted to version as of 23:45, December 15, 2012 Check the caption please. It's just to show her outfit color scheme change.
23:54, December 15, 2012
146 × 232

(84 KB)

Uknownada (Talk | contribs)
Reverted to version as of 23:44, December 15, 2012 Only if we can see actually see it.
23:45, December 15, 2012
140 × 140

(41 KB)

One Piece Wiki User (Talk | contribs)
Reverted to version as of 23:40, December 15, 2012 Do you promote pixelated doo doo?
23:44, December 15, 2012
146 × 232

(84 KB)

The Koromo (Talk | contribs)
Reverted to version as of 23:39, December 15, 2012 At least I don't promote a huge "SHARE" in the middle of the picture.
23:40, December 15, 2012
140 × 140

(41 KB)

One Piece Wiki User (Talk | contribs)
Reverted to version as of 23:32, December 15, 2012 Hi Klobis.
23:39, December 15, 2012
146 × 232

(84 KB)

The Koromo (Talk | contribs)
Reverted to version as of 23:31, December 15, 2012
23:32, December 15, 2012
140 × 140

(41 KB)

One Piece Wiki User (Talk | contribs)
Reverted to version as of 23:22, December 15, 2012 False. We need the color scheme of the clothes, which are clearly shown.
23:31, December 15, 2012
146 × 232

(84 KB)

Uknownada (Talk | contribs)
Reverted to version as of 23:22, December 15, 2012 Even if it is, it's a better alternative. We need a picture of her, a giant "SHARE" just gets in the way.
23:22, December 15, 2012
140 × 140

(41 KB)

One Piece Wiki User (Talk | contribs)
Reverted to version as of 23:13, December 15, 2012 Regardless, the quality is terrible.
23:22, December 15, 2012
146 × 232

(84 KB)

Uknownada (Talk | contribs)
Reverted to version as of 23:12, December 15, 2012 No it isn't. There are textless openings on the DVDs.
23:13, December 15, 2012
140 × 140

(41 KB)

One Piece Wiki User (Talk | contribs)
English is in Raw. Other one is edited.
23:12, December 15, 2012
146 × 232

(84 KB)

One Piece Wiki User (Talk | contribs)
{{LQ}} == Source == From Share the World! == Licensing == {{Tv-screenshot}} Category:Characters Images
Metadata