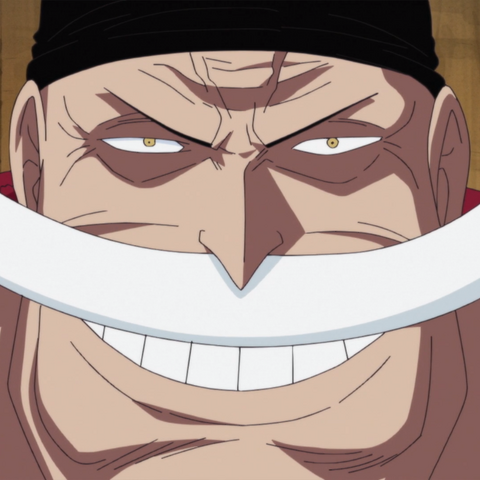 Description
Edit
Whitebeard's portrait.
From Episode 462.
From Volume 57 cover.
Licensing
Edit
Appears on these pages

of
Admiral Statistics Japanese Name: 提督 Romanized Name: Teitoku Official English Name: Commodore...

Haki Statistics Japanese Name: 覇気 Official English Name: Haki (FUNimation dub) Debut: Chapter 1...

Busoshoku Haki is a form of Haki that allows the user to use their spirit to create, in essence...
See full list >
File history
Click on a date/time to view the file as it appeared at that time.
Date/Time
Thumbnail
Dimensions
User
Comment
current
12:41, June 1, 2018
616 × 616

(277 KB)

Cdavymatias (Talk | contribs)
12:40, June 1, 2018
616 × 618

(277 KB)

Cdavymatias (Talk | contribs)
21:01, December 6, 2014
658 × 658

(256 KB)

CaluBot (Talk | contribs)
Reverted to version as of 16:25, June 22, 2013
16:25, June 22, 2013
658 × 658

(256 KB)

One Piece Wiki User (Talk | contribs)
The image is squished, messing with the aspect ratio reduces quality.
23:31, April 30, 2013
478 × 478

(199 KB)

Genocyber (Talk | contribs)
Reverted to version as of 11:24, September 24, 2012
20:21, April 30, 2013
936 × 936

(1.13 MB)

One Piece Wiki User (Talk | contribs)
20:19, April 30, 2013
800 × 800

(1.06 MB)

One Piece Wiki User (Talk | contribs)
Reverted to version as of 11:16, September 24, 2012 Anime needs to be sourced.
11:24, September 24, 2012
478 × 478

(199 KB)

KuroAshi98 (Talk | contribs)
Reverted to version as of 14:38, September 22, 2012
11:16, September 24, 2012
800 × 800

(1.06 MB)

Klobis (Talk | contribs)
Reverted to version as of 11:23, September 22, 2012 better
14:38, September 22, 2012
478 × 478

(199 KB)

KuroAshi98 (Talk | contribs)
Reverted to version as of 11:00, September 22, 2012 It has nothing to do with hate.
11:23, September 22, 2012
800 × 800

(1.06 MB)

Klobis (Talk | contribs)
Reverted to version as of 08:51, September 22, 2012 Stop hating Oda's images
11:00, September 22, 2012
478 × 478

(199 KB)

Genocyber (Talk | contribs)
Reverted to version as of 13:47, November 19, 2010
08:51, September 22, 2012
800 × 800

(1.06 MB)

Klobis (Talk | contribs)
13:47, November 19, 2010
478 × 478

(199 KB)

MasterDeva (Talk | contribs)
Full face and mustache shown.
14:57, November 16, 2010
200 × 200

(48 KB)

Juracuille (Talk | contribs)
Reverted to version as of 23:29, September 27, 2010
14:51, November 16, 2010
400 × 400

(154 KB)

Juracuille (Talk | contribs)
11:41, September 30, 2010
478 × 478

(219 KB)

MasterDeva (Talk | contribs)
23:29, September 27, 2010
200 × 200

(48 KB)

YazzyDream (Talk | contribs)
That's... not a square. Sticks out from the rest of the portraits.
17:09, September 27, 2010
529 × 478

(298 KB)

MasterDeva (Talk | contribs)
08:09, September 19, 2010
200 × 200

(48 KB)

YazzyDream (Talk | contribs)
08:06, September 19, 2010
459 × 459

(163 KB)

YazzyDream (Talk | contribs)
16:40, September 11, 2010
254 × 254

(74 KB)

Juracuille (Talk | contribs)
Reverted to version as of 07:30, September 2, 2010
09:16, September 11, 2010
120 × 120

(30 KB)

Dml09 (Talk | contribs)
08:09, September 4, 2010
350 × 350

(114 KB)

Dml09 (Talk | contribs)
Reverted to version as of 08:49, August 15, 2010
07:30, September 2, 2010
254 × 254

(74 KB)

Juracuille (Talk | contribs)
07:25, September 2, 2010
254 × 254

(74 KB)

Juracuille (Talk | contribs)
Reverted to version as of 07:20, September 2, 2010
07:24, September 2, 2010
254 × 254

(74 KB)

Juracuille (Talk | contribs)
07:20, September 2, 2010
254 × 254

(74 KB)

Juracuille (Talk | contribs)
08:49, August 15, 2010
350 × 350

(114 KB)

Genocyber (Talk | contribs)
03:44, August 13, 2010
310 × 310

(104 KB)

Juracuille (Talk | contribs)
Reverted to version as of 17:39, August 10, 2010
03:44, August 13, 2010
310 × 310

(104 KB)

Juracuille (Talk | contribs)
Reverted to version as of 03:42, August 13, 2010
03:43, August 13, 2010
310 × 310

(258 KB)

Juracuille (Talk | contribs)
Reverted to version as of 20:13, March 7, 2010
03:42, August 13, 2010
310 × 310

(104 KB)

Juracuille (Talk | contribs)
Reverted to version as of 11:28, August 12, 2010
11:28, August 12, 2010
310 × 310

(104 KB)

Juracuille (Talk | contribs)
Reverted to version as of 11:26, August 12, 2010
11:28, August 12, 2010
310 × 310

(104 KB)

Juracuille (Talk | contribs)
Reverted to version as of 13:13, August 11, 2010
11:26, August 12, 2010
310 × 310

(104 KB)

Juracuille (Talk | contribs)
Reverted to version as of 13:13, August 11, 2010
13:15, August 11, 2010
358 × 358

(126 KB)

Aldarinor (Talk | contribs)
Reverted to version as of 10:15, August 11, 2010
13:13, August 11, 2010
310 × 310

(104 KB)

Aldarinor (Talk | contribs)
What's wrong with this one? In the other one, not even his full mustache is visible...
10:15, August 11, 2010
358 × 358

(126 KB)

Klobis (Talk | contribs)
Reverted to version as of 02:38, August 9, 2010
00:09, August 11, 2010
310 × 310

(79 KB)

Genocyber (Talk | contribs)
Reverted to version as of 01:32, June 13, 2010
17:39, August 10, 2010
310 × 310

(104 KB)

Gandulfo88 (Talk | contribs)
02:38, August 9, 2010
358 × 358

(126 KB)

Klobis (Talk | contribs)
01:32, June 13, 2010
310 × 310

(79 KB)

DemonRin (Talk | contribs)
Same image, cleaned to remove the credits
20:13, March 7, 2010
310 × 310

(258 KB)

Kdom (Talk | contribs)
To replace Demo8.png file with a more appropriate name {{PAGENAME}}
04:37, August 12, 2009
200 × 200

(194 KB)

Sables (Talk | contribs)
Thumb of Whitebeard
Metadata