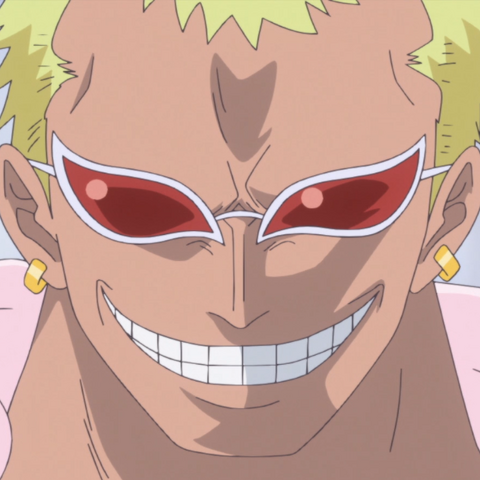 Licensing
Edit
Appears on these pages

of
The Beasts Pirates are an infamous and powerful pirate crew led by Kaido of the Yonko. They are...

Broker Statistics Japanese Name: 仲買人 (ブローカー) Romanized Name: Nakagainin (Burōkā) Official...

The Donquixote Family is one of the 20 royal families that founded the World Government and one...
See full list >
File history
Click on a date/time to view the file as it appeared at that time.
(Latest |
Earliest
) View (newer 50 |
older 50
) (
20
|
50
|
100
|
250
|
500
)
Date/Time
Thumbnail
Dimensions
User
Comment
current
17:46, November 13, 2016
567 × 567

(353 KB)

AuroraOfDeath (Talk | contribs)
Talk page
19:55, October 12, 2016
650 × 650

(372 KB)

Awaikage (Talk | contribs)
19:54, October 12, 2016
650 × 650

(372 KB)

Awaikage (Talk | contribs)
Actually this one was in place for over a month so it's technically the default (even though no one wants it).
17:59, October 12, 2016
567 × 567

(353 KB)

M4ND0N (Talk | contribs)
This isn't even a hard decision. This picture is astronomically better. And it's the original, so if you want to change it - take it to poll.
17:33, October 12, 2016
567 × 567

(353 KB)

M4ND0N (Talk | contribs)
This isn't even a hard decision. This picture is astronomically better. And it's the original, so if you want to change it - take it to poll.
23:59, October 10, 2016
720 × 720

(545 KB)

Valyrian Wildfire (Talk | contribs)
More color in this one.
23:45, October 10, 2016
567 × 567

(353 KB)

M4ND0N (Talk | contribs)
His face is also bulged out and looks like the photo's being viewed through a magnifying glass. The colours and detail are fine in the original, and the expression is better.
21:47, October 8, 2016
720 × 720

(545 KB)

Awaikage (Talk | contribs)
Reverted to version as of 18:23, October 1, 2016 Better detail and colors.
15:41, October 8, 2016
567 × 567

(353 KB)

M4ND0N (Talk | contribs)
What is with some people's pathological need to change otherwise perfect portrait images?
18:23, October 1, 2016
720 × 720

(545 KB)

Awaikage (Talk | contribs)
00:14, August 15, 2016
650 × 650

(372 KB)

Awaikage (Talk | contribs)
better detail and colors
23:48, August 14, 2016
567 × 567

(353 KB)

Kaido King of the Beasts (Talk | contribs)
horribly drawn
20:48, August 14, 2016
370 × 370

(182 KB)

Awaikage (Talk | contribs)
Better colors.
22:05, May 9, 2015
567 × 567

(353 KB)

Calua (Talk | contribs)
His head is tilted down, also bad lighting.
19:01, May 9, 2015
636 × 636

(342 KB)

AsuraDrago (Talk | contribs)
Better detail.
20:37, May 6, 2015
567 × 567

(353 KB)

12th Supernova (Talk | contribs)
Reverted to version as of 15:53, December 11, 2014
12:09, August 3, 2014
567 × 567

(353 KB)

Mr. Whatever (Talk | contribs)
Actual square.
12:03, August 3, 2014
400 × 400

(197 KB)

Mr. Whatever (Talk | contribs)
Not square.
10:10, August 3, 2014
915 × 866

(612 KB)

M4ND0N (Talk | contribs)
removed white line at the top
10:09, August 3, 2014
915 × 871

(614 KB)

M4ND0N (Talk | contribs)
High res, better angle, better photo.
04:42, June 20, 2014
400 × 400

(197 KB)

AsuraDrago (Talk | contribs)
No reason given, lets just use this for now, the other has too many obstructions.
01:50, June 20, 2014
367 × 367

(316 KB)

Sewil (Talk | contribs)
Reverted to version as of 01:24, June 20, 2014
01:35, June 20, 2014
400 × 400

(197 KB)

AsuraDrago (Talk | contribs)
Thats Caesar, besides Luffy's knuckle and the Kanji text are in the way. Not trying to edit war here. Actually looking for newer images to use.
01:24, June 20, 2014
367 × 367

(316 KB)

Yatanogarasu (Talk | contribs)
Reverted to version as of 19:40, June 18, 2014 So was Caesar's portrait.
00:32, June 20, 2014
400 × 400

(197 KB)

AsuraDrago (Talk | contribs)
No tongue
00:08, June 20, 2014
140 × 140

(62 KB)

Klobis (Talk | contribs)
Reverted to version as of 00:48, August 12, 2013
18:39, June 19, 2014
400 × 400

(197 KB)

AsuraDrago (Talk | contribs)
Closed mouth, no knuckles or Kanji text.
19:40, June 18, 2014
367 × 367

(316 KB)

Mr. Whatever (Talk | contribs)
03:40, June 4, 2014
400 × 400

(197 KB)

Mr. Whatever (Talk | contribs)
Not square.
02:54, June 4, 2014
432 × 439

(173 KB)

AsuraDrago (Talk | contribs)
How about this? Post-timeskip, better lighting and quality.
09:16, December 8, 2013
400 × 400

(197 KB)

One Piece Wiki User (Talk | contribs)
Dat stretch.
08:52, December 8, 2013
800 × 800

(631 KB)

Genocyber (Talk | contribs)
18:30, August 27, 2013
400 × 400

(197 KB)

One Piece Wiki User (Talk | contribs)
Discussion on talk page decided to use it. Go there.
18:20, August 27, 2013
590 × 590

(271 KB)

Staw-Hat Luffy (Talk | contribs)
POLL RESULT
08:21, August 13, 2013
400 × 400

(197 KB)

WonderfulUnicorn (Talk | contribs)
Reverted to version as of 19:49, August 12, 2013 Okay, so until ST arrives at the Talk Page, everyone prefers THIS Image.
08:02, August 13, 2013
590 × 590

(271 KB)

WonderfulUnicorn (Talk | contribs)
Reverted to version as of 17:46, August 12, 2013 Original for Edit War. Just make a new Poll if you prefer that other image (which I actually do).
19:49, August 12, 2013
400 × 400

(197 KB)

JustSomeDude... (Talk | contribs)
Reverted to version as of 06:55, August 12, 2013 No way. It's a completely new image and it should be treated as a new, separate issue from the old poll.
17:46, August 12, 2013
590 × 590

(271 KB)

SeaTerror (Talk | contribs)
Yes
06:55, August 12, 2013
400 × 400

(197 KB)

Kaizoku-Hime (Talk | contribs)
So we have to have another poll for EVERY new image after the 1st poll!?
06:48, August 12, 2013
590 × 590

(271 KB)

SeaTerror (Talk | contribs)
Poll result. Has to stay on this one unless a new poll happens.
02:38, August 12, 2013
400 × 400

(197 KB)

Yatanogarasu (Talk | contribs)
Reverted to version as of 23:23, August 11, 2013 No tongue, at least.
01:42, August 12, 2013
590 × 590

(271 KB)

SeaTerror (Talk | contribs)
Reverted to version as of 13:55, August 11, 2013
00:48, August 12, 2013
140 × 140

(62 KB)

Klobis (Talk | contribs)
23:23, August 11, 2013
400 × 400

(197 KB)

Furisu (Talk | contribs)
Reverted to version as of 01:30, August 11, 2013 There was no poll about these two versions.
13:55, August 11, 2013
590 × 590

(271 KB)

WonderfulUnicorn (Talk | contribs)
Reverted to version as of 10:06, June 25, 2013 Poll result.
01:30, August 11, 2013
400 × 400

(197 KB)

Kaizoku-Hime (Talk | contribs)
Polls were against that 1.
01:24, August 11, 2013
440 × 440

(502 KB)

Kaine Zaltz (Talk | contribs)
Reverted to version as of 11:25, May 3, 2013
23:43, August 10, 2013
400 × 400

(197 KB)

Furisu (Talk | contribs)
No tongue.
10:06, June 25, 2013
590 × 590

(271 KB)

One Piece Wiki User (Talk | contribs)
HQ version of poll result.
19:23, May 21, 2013
250 × 250

(86 KB)

Staw-Hat Luffy (Talk | contribs)
Reverted to version as of 18:44, May 6, 2013 original
(Latest |
Earliest
) View (newer 50 |
older 50
) (
20
|
50
|
100
|
250
|
500
)
Metadata