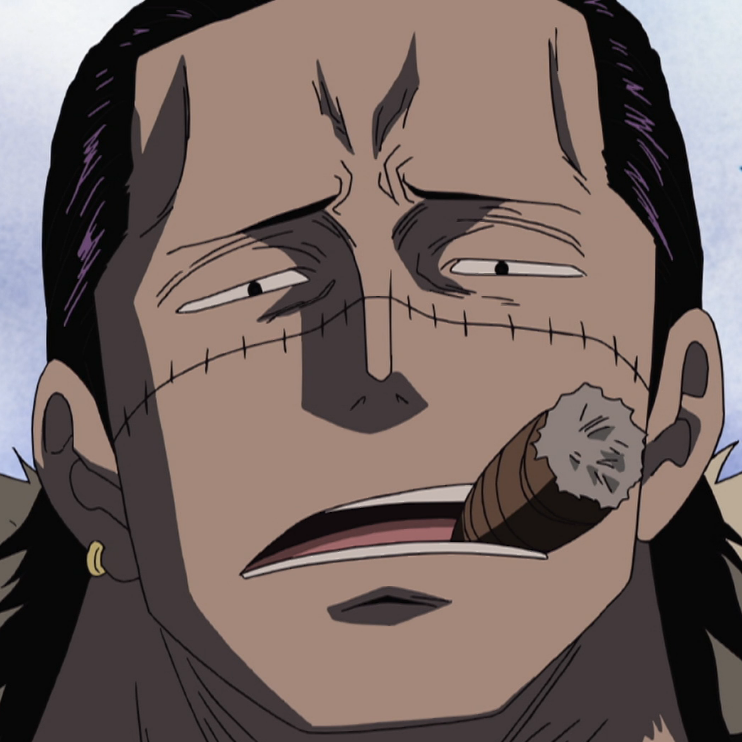 No higher resolution available.
Licensing
Edit
Appears on these pages

of
The subject of this article has also been referred to as Arabasta. Alabasta Kingdom is a desert...

Baroque Works[2] was a criminal organization created by the former Shichibukai, Crocodile, to...

Logia is one of the three Devil Fruit types. A Logia Devil Fruit is characterized by giving its...
See full list >
File history
Click on a date/time to view the file as it appeared at that time.
(Latest |
Earliest
) View (newer 50 |
older 50
) (
20
|
50
|
100
|
250
|
500
)
Date/Time
Thumbnail
Dimensions
User
Comment
current
07:33, November 17, 2013
330 × 330

(229 KB)

Nightmare Pirates (Talk | contribs)
Reverting just to display it for the discussion
07:32, November 17, 2013
250 × 250

(112 KB)

Nightmare Pirates (Talk | contribs)
07:24, November 17, 2013
330 × 330

(229 KB)

Genocyber (Talk | contribs)
Reverted to version as of 06:23, November 17, 2013
07:24, November 17, 2013
220 × 220

(62 KB)

Genocyber (Talk | contribs)
06:23, November 17, 2013
330 × 330

(229 KB)

Genocyber (Talk | contribs)
Reverted to version as of 05:52, November 17, 2013
06:23, November 17, 2013
400 × 400

(116 KB)

Genocyber (Talk | contribs)
05:52, November 17, 2013
330 × 330

(229 KB)

One Piece Wiki User (Talk | contribs)
Reverted due to the ongoing discussion.
05:49, November 17, 2013
279 × 279

(143 KB)

Nightmare Pirates (Talk | contribs)
04:24, November 17, 2013
330 × 330

(229 KB)

One Piece Wiki User (Talk | contribs)
Holy crap use the talk page already.
04:21, November 17, 2013
324 × 324

(150 KB)

Nightmare Pirates (Talk | contribs)
04:03, November 17, 2013
400 × 400

(257 KB)

Genocyber (Talk | contribs)
I quite like it
03:39, November 17, 2013
330 × 330

(229 KB)

One Piece Wiki User (Talk | contribs)
Still not good enough.
03:38, November 17, 2013
400 × 400

(257 KB)

Nightmare Pirates (Talk | contribs)
epsideo 449
12:46, November 4, 2013
330 × 330

(229 KB)

One Piece Wiki User (Talk | contribs)
Weird detail.
12:10, November 4, 2013
570 × 570

(212 KB)

Genocyber (Talk | contribs)
19:59, September 13, 2013
330 × 330

(229 KB)

Furisu (Talk | contribs)
Reverted to version as of 20:45, July 29, 2013 Better lightning. That's why. And use the talk page...
19:53, September 13, 2013
704 × 704

(400 KB)

Melody of dead.deanders (Talk | contribs)
Reverted to version as of 19:44, July 28, 2013 keep the manga pic..
19:52, September 13, 2013
704 × 704

(400 KB)

Melody of dead.deanders (Talk | contribs)
Reverted to version as of 19:44, July 28, 2013 do we really need a manga portrait when all others sh. have anime pics..? not to mention that the quality of the pic is much better.. stop screwing around and provide a proper reason if you want to keep th...
20:45, July 29, 2013
330 × 330

(229 KB)

Staw-Hat Luffy (Talk | contribs)
Damn lags
20:45, July 29, 2013
330 × 330

(229 KB)

Staw-Hat Luffy (Talk | contribs)
wtf
20:44, July 29, 2013
330 × 330

(229 KB)

Staw-Hat Luffy (Talk | contribs)
Talk page...
19:56, July 29, 2013
300 × 300

(129 KB)

AsuraDrago (Talk | contribs)
Reverted to version as of 19:21, July 28, 2013
02:46, July 29, 2013
330 × 330

(229 KB)

Klobis (Talk | contribs)
Reverted to version as of 19:23, July 28, 2013
19:44, July 28, 2013
704 × 704

(400 KB)

AsuraDrago (Talk | contribs)
you are wrong as usual. this is just your own will against the anime lately. seriously man your such a baby about these things. can you honestly say that manga color is good quality? its not, so deal with it.
19:23, July 28, 2013
330 × 330

(229 KB)

One Piece Wiki User (Talk | contribs)
All talk participants (minus Staw) supported the manga. Go there.
19:21, July 28, 2013
300 × 300

(129 KB)

AsuraDrago (Talk | contribs)
the image is clear and updated in a sense, let leave it as this for now and not make a fuss about it.
08:56, July 25, 2013
330 × 330

(229 KB)

Klobis (Talk | contribs)
Reverted to version as of 02:11, May 7, 2013
11:25, May 21, 2013
704 × 704

(400 KB)

Staw-Hat Luffy (Talk | contribs)
Reverted to version as of 08:13, December 11, 2011 original
02:11, May 7, 2013
330 × 330

(229 KB)

Klobis (Talk | contribs)
Reverted to version as of 12:07, May 6, 2013 Stop.
18:45, May 6, 2013
300 × 300

(129 KB)

Genocyber (Talk | contribs)
I deny you
12:07, May 6, 2013
330 × 330

(229 KB)

Klobis (Talk | contribs)
Reverted to version as of 01:19, May 5, 2013 you deny OP itself...?
01:48, May 5, 2013
300 × 300

(129 KB)

Genocyber (Talk | contribs)
We don't need the manga
01:19, May 5, 2013
330 × 330

(229 KB)

Sewil (Talk | contribs)
Reverted to version as of 20:53, May 4, 2013 (excuse me?)
01:13, May 5, 2013
300 × 300

(129 KB)

Genocyber (Talk | contribs)
Reverted to version as of 09:47, May 2, 2013
20:53, May 4, 2013
330 × 330

(229 KB)

Kaizoku-Hime (Talk | contribs)
No border.
20:43, May 4, 2013
328 × 328

(318 KB)

Sewil (Talk | contribs)
09:47, May 2, 2013
300 × 300

(129 KB)

Kaizoku-Hime (Talk | contribs)
Portraits should show characters' proper skin color; Croc's not that dark.
09:42, May 2, 2013
704 × 704

(400 KB)

Staw-Hat Luffy (Talk | contribs)
Reverted to version as of 09:16, May 2, 2013 tis is way better though
09:34, May 2, 2013
300 × 300

(129 KB)

Kaizoku-Hime (Talk | contribs)
Dark Impel Down lighting; portraits should have daytime lighting.
09:16, May 2, 2013
704 × 704

(400 KB)

Staw-Hat Luffy (Talk | contribs)
Reverted to version as of 21:32, May 1, 2013 more frontal
21:57, May 1, 2013
300 × 300

(129 KB)

Kaizoku-Hime (Talk | contribs)
21:49, May 1, 2013
365 × 365

(155 KB)

Kaizoku-Hime (Talk | contribs)
21:32, May 1, 2013
704 × 704

(400 KB)

MasterDeva (Talk | contribs)
I agree with Kaizoku-Hime, his eyes look weird though. Plus, no earring.
21:26, May 1, 2013
250 × 250

(107 KB)

Kaizoku-Hime (Talk | contribs)
If possible, characters images should be in daytime lighting. The other 1 has the darker lighting of Impel Down.
08:13, December 11, 2011
704 × 704

(400 KB)

MasterDeva (Talk | contribs)
HQ version.
15:20, December 10, 2010
450 × 450

(236 KB)

KishinZoro177 (Talk | contribs)
Reverted to version as of 08:35, September 10, 2010, newest look seen in the anime, with cigar, relax and serious face
00:05, December 10, 2010
412 × 412

(203 KB)

Yatanogarasu (Talk | contribs)
Reverted to version as of 06:49, December 9, 2010 I can't see the top portion of his hair, and the cigar really isn't part of him all the time.
08:50, December 9, 2010
290 × 290

(94 KB)

Klobis (Talk | contribs)
Reverted to version as of 00:03, July 23, 2010
06:49, December 9, 2010
412 × 412

(203 KB)

Yatanogarasu (Talk | contribs)
Yeah, I don't think he should have a cigar in his mouth here.
08:35, September 10, 2010
450 × 450

(236 KB)

Juracuille (Talk | contribs)
Reverted to version as of 13:34, July 22, 2010
(Latest |
Earliest
) View (newer 50 |
older 50
) (
20
|
50
|
100
|
250
|
500
)
Metadata