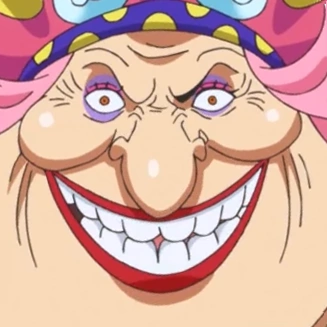 Description
Edit
A portrait of Charlotte Linlin.
From Episode 785
From Episode 833.
From Episode 831.
From Episode 789.
From Episode 786.
From Chapter 862.
From the cover of Shonen Jump 2017 Issue 15
From the cover of Volume 83.
From Chapter 829
From Chapter 813, page 10.
From Episode 571.
From Chapter 651.
From Chapter 432.
Licensing
Edit
Appears on these pages

of
Admiral Statistics Japanese Name: 提督 Romanized Name: Teitoku Official English Name: Commodore...

The Big Mom Pirates are an infamous and powerful pirate crew led by the Yonko Charlotte Linlin...

The Charlotte Family is the family of Charlotte Linlin of the Yonko, also known as Big Mom. The...
See full list >
File history
Click on a date/time to view the file as it appeared at that time.
Date/Time
Thumbnail
Dimensions
User
Comment
current
06:46, July 1, 2018
540 × 540

(276 KB)

Awaikage (Talk | contribs)
Reverted to version as of 10:10, June 30, 2018 Eyes look off, lower quality.
17:13, June 30, 2018
273 × 273

(136 KB)

Sarutobii2 (Talk | contribs)
Reverted to version as of 06:57, June 30, 2018
10:10, June 30, 2018
540 × 540

(276 KB)

GoldTesoro (Talk | contribs)
Reverted to version as of 15:31, April 23, 2018
06:57, June 30, 2018
273 × 273

(136 KB)

Nightmare Pirates (Talk | contribs)
straight frontal, rather than head tilted upwards
15:31, April 23, 2018
540 × 540

(276 KB)

Awaikage (Talk | contribs)
More like Big Mom.
03:10, April 8, 2018
574 × 574

(335 KB)

Sarutobii2 (Talk | contribs)
Head not tilted + less evil expression.
01:32, January 14, 2018
390 × 390

(168 KB)

Awaikage (Talk | contribs)
Reverted to version as of 17:47, May 22, 2017 Less frontal and not really better in any way.
13:43, January 13, 2018
480 × 480

(286 KB)

GoldTesoro (Talk | contribs)
Best Portrait
17:47, May 22, 2017
390 × 390

(168 KB)

Kaido King of the Beasts (Talk | contribs)
Reverted to version as of 02:26, May 1, 2017 poorly drawn and not detailed
17:25, May 22, 2017
301 × 301

(93 KB)

GoldTesoro (Talk | contribs)
Episode 789
02:26, May 1, 2017
390 × 390

(168 KB)

Awaikage (Talk | contribs)
HQ version.
16:58, April 30, 2017
304 × 305

(150 KB)

Kaido King of the Beasts (Talk | contribs)
Reverted to version as of 11:55, April 30, 2017 better quality
12:43, April 30, 2017
300 × 300

(135 KB)

Rhavkin (Talk | contribs)
Reverted to version as of 07:59, April 30, 2017 Shadowed
11:55, April 30, 2017
304 × 305

(150 KB)

Kaido King of the Beasts (Talk | contribs)
Reverted to version as of 01:27, April 30, 2017
07:59, April 30, 2017
300 × 300

(135 KB)

Rhavkin (Talk | contribs)
01:27, April 30, 2017
304 × 305

(150 KB)

Kaido King of the Beasts (Talk | contribs)
23:45, April 13, 2017
237 × 237

(141 KB)

Kaido King of the Beasts (Talk | contribs)
Reverted to version as of 09:18, March 9, 2017
19:16, April 13, 2017
298 × 298

(39 KB)

Loiciol (Talk | contribs)
Not centered, but in a much better angle.
09:18, March 9, 2017
237 × 237

(141 KB)

Sarutobii2 (Talk | contribs)
Both eyes visible.
16:54, November 3, 2016
229 × 229

(44 KB)

Awaikage (Talk | contribs)
Reverted to version as of 21:55, June 20, 2016 Bad angle.
15:48, November 3, 2016
324 × 324

(256 KB)

Kaido King of the Beasts (Talk | contribs)
21:55, June 20, 2016
229 × 229

(44 KB)

Kaido King of the Beasts (Talk | contribs)
12:55, June 16, 2016
350 × 350

(38 KB)

Kaido King of the Beasts (Talk | contribs)
06:40, January 25, 2016
305 × 305

(100 KB)

Kaizoku-Hime (Talk | contribs)
22:23, January 21, 2016
295 × 295

(85 KB)

Kaizoku-Hime (Talk | contribs)
19:35, January 21, 2016
320 × 320

(103 KB)

Yatanogarasu (Talk | contribs)
More cleaned up.
19:32, January 21, 2016
660 × 660

(408 KB)

Yatanogarasu (Talk | contribs)
No shadowed out, no scanlation text.
19:31, January 21, 2016
660 × 660

(408 KB)

Yatanogarasu (Talk | contribs)
No shadowed out, no scanlation text.
00:10, January 12, 2013
539 × 539

(254 KB)

One Piece Wiki User (Talk | contribs)
02:25, November 4, 2012
694 × 694

(378 KB)

Genocyber (Talk | contribs)
05:38, December 27, 2011
694 × 694

(108 KB)

Yatanogarasu (Talk | contribs)
Cutting out blanked out speech bubbles.
02:55, December 27, 2011
994 × 994

(294 KB)

SeaTerror (Talk | contribs)
Wrong. The highest quality version is what is supposed to be used.
02:35, December 27, 2011
531 × 480

(237 KB)

DemonRin (Talk | contribs)
Reverted to version as of 01:32, December 27, 2011 WE ARE NOT SUPPOSED TO USE MANGA SHARE'S VERSION EVEN IF YOU CROP OUT THEIR WATERMARK
02:26, December 27, 2011
994 × 994

(294 KB)

SeaTerror (Talk | contribs)
Reverted to version as of 17:43, December 26, 2011
01:32, December 27, 2011
531 × 480

(237 KB)

DemonRin (Talk | contribs)
People, the better looking one is Manga Share's version of the file. We can't use that, it has to be from a raw release.
17:43, December 26, 2011
994 × 994

(294 KB)

Leviathan 89 (Talk | contribs)
Chapter 651
01:49, November 20, 2011
170 × 170

(32 KB)

Klobis (Talk | contribs)
Reverted to version as of 12:04, November 4, 2010
18:00, November 19, 2011
178 × 178

(46 KB)

Omegazion (Talk | contribs)
This anime one reveals more of her face.
12:04, November 4, 2010
170 × 170

(32 KB)

Klobis (Talk | contribs)
Metadata