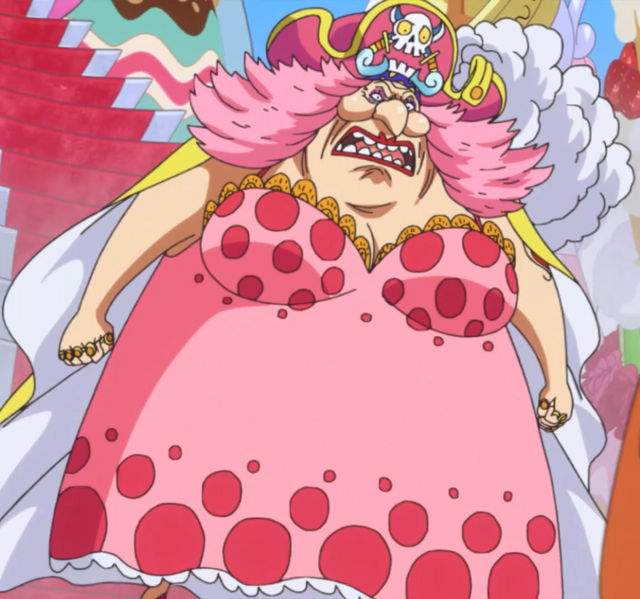 Full resolution
‎
(1,057 × 666 pixels, file size: 803 KB, MIME type: image/png)
Well, this'll do for now.

This file is currently considered acceptable, because there is no better option available. However, it should be replaced in the future.
Please, stay on the lookout for a better version of "Charlotte Linlin Anime Infobox.png".
Description
Edit
Charlotte Linlin's anime infobox.
From Episode 571.
From Chapter 651.
Licensing
Edit
Appears on these pages

of
Charlotte Linlin, more widely known as Big Mom, is the captain of the Big Mom Pirates and the...

The Fishman Island Arc is the twenty-fifth story arc. It is the second and last arc in the...

The Yonko are the four most notorious and most powerful pirate captains in the world, but are...
See full list >
File history
Click on a date/time to view the file as it appeared at that time.
Date/Time
Thumbnail
Dimensions
User
Comment
current
04:11, July 28, 2015
1,057 × 666

(803 KB)

JustSomeDude... (Talk | contribs)
Seems a little LQ to me. But I'm only here to crop.
23:50, September 25, 2014
1,067 × 720

(889 KB)

Videogamep (Talk | contribs)
Reverted to version as of 23:48, September 25, 2014
23:48, September 25, 2014
531 × 480

(237 KB)

What is this Even (Talk | contribs)
Reverted to version as of 23:46, September 25, 2014
23:48, September 25, 2014
1,067 × 720

(889 KB)

Videogamep (Talk | contribs)
Reverted to version as of 23:45, September 25, 2014
23:46, September 25, 2014
531 × 480

(237 KB)

What is this Even (Talk | contribs)
Reverted to version as of 23:29, September 25, 2014
23:45, September 25, 2014
1,067 × 720

(889 KB)

Calua (Talk | contribs)
Reverted to version as of 23:29, September 25, 2014
23:29, September 25, 2014
531 × 480

(237 KB)

TazmanianLeopard (Talk | contribs)
Reverted to version as of 23:07, September 25, 2014
23:29, September 25, 2014
1,067 × 720

(889 KB)

Calua (Talk | contribs)
Reverted to version as of 18:18, September 21, 2014
23:07, September 25, 2014
531 × 480

(237 KB)

Thomas the TankPowderer (Talk | contribs)
Reverted to version as of 18:15, September 21, 2014
18:18, September 21, 2014
1,067 × 720

(889 KB)

Calua (Talk | contribs)
Reverted to version as of 20:03, September 20, 2014
18:15, September 21, 2014
531 × 480

(237 KB)

Michael Dogget (Talk | contribs)
Reverted to version as of 05:41, September 16, 2014
20:03, September 20, 2014
1,067 × 720

(889 KB)

AsuraDrago (Talk | contribs)
Reverted to version as of 11:45, September 15, 2014
05:41, September 16, 2014
531 × 480

(237 KB)

Bloody Stream (Talk | contribs)
Reverted to version as of 04:28, September 15, 2014
11:45, September 15, 2014
1,067 × 720

(889 KB)

Awaikage (Talk | contribs)
Reverted to version as of 01:56, September 14, 2014
04:28, September 15, 2014
531 × 480

(237 KB)

Matt DanceFagggetr (Talk | contribs)
Reverted to version as of 01:43, September 14, 2014
01:56, September 14, 2014
1,067 × 720

(889 KB)

Calua (Talk | contribs)
Reverted to version as of 01:48, September 14, 2014
01:51, September 14, 2014
1,067 × 720

(889 KB)

The Guy With Hope (Talk | contribs)
Reverted to version as of 01:48, September 14, 2014
01:48, September 14, 2014
1,067 × 720

(889 KB)

Calua (Talk | contribs)
Reverted to version as of 01:43, September 14, 2014
01:48, September 14, 2014
1,067 × 720

(889 KB)

Yatanogarasu (Talk | contribs)
Reverted to version as of 01:43, September 14, 2014
01:43, September 14, 2014
531 × 480

(237 KB)

Soldier of Love (Talk | contribs)
Reverted to version as of 01:32, September 14, 2014
01:43, September 14, 2014
1,067 × 720

(889 KB)

Yatanogarasu (Talk | contribs)
Reverted to version as of 00:04, January 12, 2013
01:32, September 14, 2014
531 × 480

(237 KB)

Soldier of Love (Talk | contribs)
Reverted to version as of 23:16, December 26, 2011
00:04, January 12, 2013
1,067 × 720

(645 KB)

One Piece Wiki User (Talk | contribs)
Slight crop.
04:04, November 4, 2012
1,102 × 720

(697 KB)

Sewil (Talk | contribs)
cropped, improved ratio
00:52, November 4, 2012
1,440 × 810

(1.82 MB)

One Piece Wiki User (Talk | contribs)
11:40, December 28, 2011
1,430 × 1,297

(790 KB)

Leviathan 89 (Talk | contribs)
What about this? No watermarks and raw text
23:16, December 26, 2011
531 × 480

(237 KB)

DemonRin (Talk | contribs)
Same Raw that was just posted here, just did a very fast simple cleanup job on it.
23:00, December 26, 2011
531 × 480

(274 KB)

Yatanogarasu (Talk | contribs)
Reverted to version as of 20:23, December 26, 2011 Okay, that didn't work.
22:56, December 26, 2011
695 × 545

(1.09 MB)

Yatanogarasu (Talk | contribs)
Reverted to version as of 16:28, December 26, 2011 This one has no watermark, and good enough quality.
22:55, December 26, 2011
1,284 × 1,150

(408 KB)

Yatanogarasu (Talk | contribs)
Reverted to version as of 17:04, December 26, 2011
20:23, December 26, 2011
531 × 480

(274 KB)

Yatanogarasu (Talk | contribs)
No watermark, no extra cropping.
17:04, December 26, 2011
1,284 × 1,150

(408 KB)

Leviathan 89 (Talk | contribs)
Until a no-watermarked version will be available
16:38, December 26, 2011
1,592 × 1,150

(361 KB)

Leviathan 89 (Talk | contribs)
Reverted to version as of 16:20, December 26, 2011 Thumbnail error in the previous version
16:28, December 26, 2011
695 × 545

(1.09 MB)

Ricizubi (Talk | contribs)
16:20, December 26, 2011
1,592 × 1,150

(361 KB)

Highestbounty123 (Talk | contribs)
Metadata