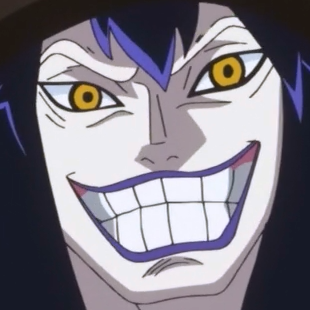 No higher resolution available.
Note: Poll has decided to use Chapter 685's Jump cover image. Do not change unless a better image comes up in the future, and bring it up to the talk page first.
Description
Edit
A portrait of Caesar Clown.
Licensing
Edit
Appears on these pages

of
The Beasts Pirates are a powerful pirate crew ruling in the New World, led by Kaido of the...

The Big Mom Pirates are a powerful pirate crew captained by Charlotte Linlin, one of the Yonko...

The Donquixote Pirates were a pirate crew led by Donquixote Doflamingo, a former Shichibukai...
See full list >
File history
Click on a date/time to view the file as it appeared at that time.
(Latest |
Earliest
) View (newer 50 |
older 50
) (
20
|
50
|
100
|
250
|
500
)
Date/Time
Thumbnail
Dimensions
User
Comment
current
19:49, October 23, 2016
360 × 360

(145 KB)

Kaido King of the Beasts (Talk | contribs)
good anime image yee
01:01, March 6, 2015
126 × 126

(35 KB)

Jademing (Talk | contribs)
slightly bigger, is this better?
00:54, March 6, 2015
134 × 134

(38 KB)

Awaikage (Talk | contribs)
Reverted to version as of 16:09, February 11, 2015 It's too small, though.
00:52, March 6, 2015
106 × 106

(26 KB)

Javierm885778 (Talk | contribs)
IT's the same picture that there already is, but taken from the latest popularity poll. It's a bit smaller, but it's a lot better because there's no part missing from it like in the past one.
16:09, February 11, 2015
134 × 134

(38 KB)

JustSomeDude... (Talk | contribs)
Cropped out robe and horns. Portraits need face, not other details. Still the same as poll result (sadly)
18:22, June 25, 2013
200 × 200

(99 KB)

JustSomeDude... (Talk | contribs)
Reverted to version as of 22:45, June 19, 2013 Didn't realize it was locked. I'm reverting and going to the talk for my version.
18:19, June 25, 2013
301 × 301

(112 KB)

JustSomeDude... (Talk | contribs)
Alternate anime version with no snow and decent detail. Kind of LQ, but from roughly 11 mins into 599.
22:45, June 19, 2013
200 × 200

(99 KB)

One Piece Wiki User (Talk | contribs)
The talk page discussion is still ongoing, from what I see.
06:40, June 14, 2013
435 × 435

(182 KB)

Genocyber (Talk | contribs)
Reverted to version as of 23:25, June 13, 2013
06:09, June 14, 2013
200 × 200

(99 KB)

Klobis (Talk | contribs)
Reverted to version as of 13:14, June 13, 2013
23:25, June 13, 2013
435 × 435

(182 KB)

Genocyber (Talk | contribs)
I thought we were good on this?
21:39, June 13, 2013
200 × 200

(99 KB)

Staw-Hat Luffy (Talk | contribs)
Reverted to version as of 13:14, June 13, 2013 great image sewil, but i really believe this one is better
20:46, June 13, 2013
435 × 435

(182 KB)

Sewil (Talk | contribs)
fixed the damn white snow filter
20:27, June 13, 2013
435 × 435

(158 KB)

WonderfulUnicorn (Talk | contribs)
Reverted to version as of 10:56, June 13, 2013
13:14, June 13, 2013
200 × 200

(99 KB)

Klobis (Talk | contribs)
Reverted to version as of 06:45, June 13, 2013
10:56, June 13, 2013
435 × 435

(158 KB)

Genocyber (Talk | contribs)
06:45, June 13, 2013
200 × 200

(99 KB)

Staw-Hat Luffy (Talk | contribs)
Reverted to version as of 21:29, June 12, 2013 Use this till the talk page agrees.
02:48, June 13, 2013
500 × 500

(186 KB)

Genocyber (Talk | contribs)
Not really
21:29, June 12, 2013
200 × 200

(99 KB)

Staw-Hat Luffy (Talk | contribs)
Reverted to version as of 13:13, April 29, 2013 this is stilll way better.
19:44, June 12, 2013
500 × 500

(186 KB)

Genocyber (Talk | contribs)
13:13, April 29, 2013
200 × 200

(99 KB)

Staw-Hat Luffy (Talk | contribs)
Reverted to version as of 07:03, April 21, 2013 edit war.Take it to the talk page.
13:12, April 29, 2013
200 × 200

(99 KB)

One Piece Wiki User (Talk | contribs)
Reverted to version as of 04:07, April 29, 2013 Right, forgot this is the default.
13:01, April 29, 2013
280 × 280

(180 KB)

One Piece Wiki User (Talk | contribs)
Reverted to version as of 04:27, April 29, 2013 Edit war.
09:20, April 29, 2013
360 × 360

(194 KB)

Staw-Hat Luffy (Talk | contribs)
Reverted to version as of 04:01, April 29, 2013
04:27, April 29, 2013
280 × 280

(180 KB)

Kaizoku-Hime (Talk | contribs)
Including the horns shrinks the face (which always takes priority) in the portrait.
04:11, April 29, 2013
423 × 423

(398 KB)

One Piece Wiki User (Talk | contribs)
The volume cover alternative.
04:07, April 29, 2013
200 × 200

(99 KB)

One Piece Wiki User (Talk | contribs)
Reverted to version as of 03:57, April 29, 2013 Caesar's skin color is not that pale. Reverted to version before the edit war.
04:01, April 29, 2013
360 × 360

(194 KB)

Uknownada (Talk | contribs)
Reverted to version as of 01:27, April 28, 2013 Giving nice lighting, which shows from the hair. The color is very minor with all our anime pics that we're too conservative about. But most importantly, there's a rip in that image.
03:57, April 29, 2013
200 × 200

(99 KB)

One Piece Wiki User (Talk | contribs)
Lots of reasons why that isn't very good. Skin. Hair color.
01:27, April 28, 2013
360 × 360

(194 KB)

Kaizoku-Hime (Talk | contribs)
20:58, April 26, 2013
360 × 360

(171 KB)

Kaizoku-Hime (Talk | contribs)
...
07:03, April 21, 2013
200 × 200

(99 KB)

Staw-Hat Luffy (Talk | contribs)
Reverted to version as of 19:25, April 1, 2013 it sucks
04:10, April 21, 2013
400 × 400

(189 KB)

Genocyber (Talk | contribs)
19:25, April 1, 2013
200 × 200

(99 KB)

One Piece Wiki User (Talk | contribs)
Reverted to version as of 17:45, April 1, 2013 Original.
19:18, April 1, 2013
150 × 150

(18 KB)

Uknownada (Talk | contribs)
Reverted to version as of 01:30, July 8, 2012 If things like that rip is going to be pointed out, here's an alternative. Edit war your mars!
17:45, April 1, 2013
200 × 200

(99 KB)

Sewil (Talk | contribs)
Reverted to version as of 17:02, April 1, 2013 (Caesar is not that pale)
17:40, April 1, 2013
240 × 240

(58 KB)

JustSomeDude... (Talk | contribs)
Reverted to version as of 16:48, April 1, 2013 What is that thing over his head on the manga version? The anime version has no obstructions.
17:02, April 1, 2013
200 × 200

(99 KB)

Sewil (Talk | contribs)
Reverted to version as of 13:20, April 1, 2013 (That's biased, anime looks terrible, manga looks better. End of discussion)
16:48, April 1, 2013
240 × 240

(58 KB)

Superdoe (Talk | contribs)
Reverted to version as of 13:16, April 1, 2013 Sorry I didn't know but for all portrait we use anime pictures even when Oda had colored another picture
13:20, April 1, 2013
200 × 200

(99 KB)

One Piece Wiki User (Talk | contribs)
Reverted to version as of 04:38, April 1, 2013 I lol'd. Oda drew this one the color of a shonen jump issue.
13:16, April 1, 2013
240 × 240

(58 KB)

Superdoe (Talk | contribs)
Reverted to version as of 04:07, April 1, 2013 Anime version is better that this fan colored pictures ..
04:38, April 1, 2013
200 × 200

(99 KB)

One Piece Wiki User (Talk | contribs)
Reverted to version as of 03:58, April 1, 2013 Too pale.
04:07, April 1, 2013
240 × 240

(58 KB)

Kaizoku-Hime (Talk | contribs)
04:04, April 1, 2013
240 × 240

(72 KB)

Kaizoku-Hime (Talk | contribs)
04:04, April 1, 2013
240 × 240

(72 KB)

Kaizoku-Hime (Talk | contribs)
03:58, April 1, 2013
200 × 200

(99 KB)

One Piece Wiki User (Talk | contribs)
Reverted to version as of 03:06, October 18, 2012 Wait for another episode. Too slanted.
03:45, April 1, 2013
620 × 620

(314 KB)

Genocyber (Talk | contribs)
03:06, October 18, 2012
200 × 200

(99 KB)

Yatanogarasu (Talk | contribs)
From Chapter 685.
03:38, September 22, 2012
300 × 300

(46 KB)

Klobis (Talk | contribs)
01:30, July 8, 2012
150 × 150

(18 KB)

Kaizoku-Hime (Talk | contribs)
(Latest |
Earliest
) View (newer 50 |
older 50
) (
20
|
50
|
100
|
250
|
500
)