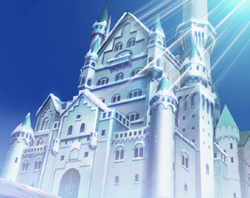 Drum Castle (ドラム城, Doramu-jō?) is a huge castle located on top of the largest mountain of the Drum Rockies on Drum Island.
Formerly inhabited by the royal family of Wapol and their servants, the castle is now owned by Dr. Kureha. Since Wapol left, the main entrance has been left open (because snow birds made a nest on top of the door), causing many rooms to freeze over. The armory contains many strong weapons, and in one of the towers is a powerful cannon, which no longer works properly, since birds also made a nest there, as well. It is also where Tony Tony Chopper lived, after the death of Hiluluk, until he left to become the doctor of the Straw Hat Pirates.[1] On the tallest tower there is a flag with Hiluluk's jolly roger on it.
References
Edit
↑ One Piece Manga and Anime — Vol. 15 Chapter 132 and Episode 79, First appearance
Ad blocker interference detected!
Wikia is a free-to-use site that makes money from advertising. We have a modified experience for viewers using ad blockers

Wikia is not accessible if you've made further modifications. Remove the custom ad blocker rule(s) and the page will load as expected.