Ad blocker interference detected!
Wikia is a free-to-use site that makes money from advertising. We have a modified experience for viewers using ad blockers

Wikia is not accessible if you've made further modifications. Remove the custom ad blocker rule(s) and the page will load as expected.
| | |
| --- | --- |
| | This article is about Japanese merchandising. For some pointers about related subjects like bootlegs, Japanese version vs the world, or the Toei sticker, you can consult the Merchandise FAQ page. |
| | |
| --- | --- |
| | Illustrations on this page are stock photos and aren't necessarily representative of the final products. |
デフォルマイスタープチ ワンピース
Bandai has launched a brand new label of figures late 2010, called Deformeister Petit, starting with Kamen Rider and One Piece. Its main characteristics are the following:
a new set of a series contains 10 different figures,
figures are about 6 cm high,
characters are rendered using SD styling.
This series is also commonly called Deformaster Petit.
One Piece vol.1
Edit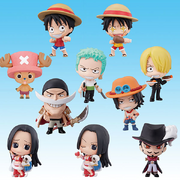 Release date: late November 2010
Price: ¥4,750 for a box of 10
One Piece vol.2
Edit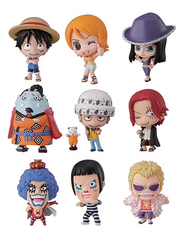 Release date: late February 2011
Price: ¥4,750 for a box of 10
One Piece vol.3
Edit
Release date: late August 2011
Price: ¥4,750 for a box of 10
One Piece vol.4
Edit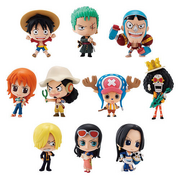 Release date: late November 2011
Price: ¥4,750 for a box of 10
Secrets: Luffy without his hat, Sanji with his left eye shaped as a heart
One Piece -Ocean Blue-
Edit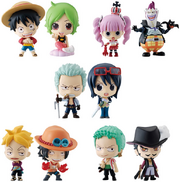 Release date: late June 2012
Price: ¥4,987 VAT included for a box of 10