Brew is an infamous New World pirate who allied himself with Whitebeard.
Appearance
Edit
Brew is a tall man with long flowing black hair and beard. His hair is adjusted with two arrow-like horns pointing out, and a third arrow pointing down on his forehead. His long beard is in a striped pattern, and he has a square jaw. He wears a blue bandanna, a shirt with a cloth on his collar, a pirate sash with pants, and a pirate coat with his arms in the sleeves; the sleeves have steel surroundings on the edges, and does not have epaulets on it. Overall, Brew has a bull-like appearance, matching that of his jolly roger.

Personality
Edit
Having only appeared on a small number of occasions, there is little of his personality that can be ascertained as of late.
Abilities and Powers
Edit
Brew is a fearsome pirate who has managed to achieve an infamous reputation in the New World, and to make an alliance with Whitebeard. It is still unknown what abilities and weapons he possess.
Some time prior to the current storyline, Brew became a known pirate in the New World, and allied himself with Whitebeard.
Summit War Saga
Edit
Marineford Arc
Edit
When Portgas D. Ace was to be executed at Marineford, Brew and his crew joined forces with the Whitebeard Pirates to save him.
He was first seen when Jinbe was escaping with Monkey D. Luffy, telling Jinbe to jump onto his ship. However, Aokiji had frozen the water preventing any possible escape.[2]
Post War Arc
Edit
He, along with the rest of his crew, attended Whitebeard's and Ace's funeral on an undisclosed island somewhere in the New World.
Major Battles
Edit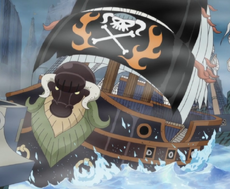 Brew's ship was seen amongst the other vessels of the New World pirates allied with Whitebeard. It is a massive ship with a bull figurehead. The crew's Jolly Roger is represented on the largest sail: a bull skull with the horns pointed down, a pair of crossed bones, and fire around the sides of the head.
References
Edit
↑ One Piece Manga and Anime — Vol. 57 Chapter 561 and Episode 470, Brew is seen next to Wallem.
↑ One Piece Manga and Anime — Vol. 59 Chapter 577 and Episode 486, Brew tried to help Jinbe escape.