Ahoy! This here is the 75th Featured Article.

"Boo Jack" has been featured, meaning it was chosen as an article of interest.
Boo Jack is one of the Trump Siblings Pirates who appeared in the second movie as one of the major antagonists.
Appearance
Edit
Boo Jack is a fat man with a pig-themed outfit. He wears a bandanna-like hat with a pig's head design, a yellow shirt with a "J" printed on the front, as well as suspenders, and a white furred-back that is his Toge Toge Armor. He also has furred arm- and elbow-bands.
Boo Jack's wanted poster from
Movie 9
.
Personality
Edit
Boo Jack enjoys asking riddles. He asks a few riddles about who will be the Pirate King ("Bear King" is the answer to all of them). Each time, Monkey D. Luffy answers "himself".
Boo Jack also seems quite arrogant, as he mocks Sanji that even with the recovered shoes, there is nothing he could do to win (which he is wrong).
Abilities and Powers
Edit
Boo Jack is a good swimmer, as Honey Queen could stand on his back while he was floating in the ocean. He was also strong enough to be given a bounty of

3,200,000.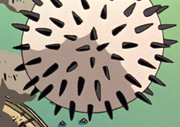 Boo Jack fights with a weapon called the Toge Toge Armor (トゲトゲの鎧, Toge Toge no Yoroi?, literally meaning "Spike Spike Armor"), with which he can emit spikes on his coat and launch them at people. He can also become a giant, rolling, spiked ball. The spikes resemble Don Krieg's spiked cape or Miss Doublefinger's Hedgehog Stinger attack.
He also has white balls that he can throw at his opponents, which either explode like bombs or emits spikes.
Clockwork Island Adventure
Edit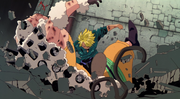 Boo Jack first appeared with Honey Queen in order to kidnap Nami from the rest of the Straw Hat Pirates. Sanji found himself at a disadvantage against him as he could not attack properly with his bare feet (his shoes were stolen with the Going Merry). Once Sanji got his shoes back, he easily defeated Boo Jack into submission.

Major Battles
Edit
Merchandise
Edit
Video Games
Edit
Enemy Appearances
Edit
Every member of Bear King's crew had both an animal and a card based theme. Boo Jack was based on a Pig and the Jack. The similar noise "Buu" is the sound a pig makes in Japanese ("Oink" to an English speaker).
His armor shares the same name as the Toge Toge no Mi.
References
Edit