Bismarck is a Marine from the fifth movie. He is seen together with Boo Kong and Toma. He is under the influence of Saga.
Appearance
Edit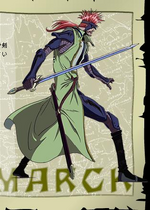 Bismarck is a tall slim man with broad shoulders and a very angular face. He wears a blue face mask, which holds up his red, spiky hair. He wears a green jacket over his blue armor which covers his whole body. The back of his green jacket has "Marine" written on it.

Personality
Edit
As a Marine, Bismarck has a strong sense of justice. It is unknown whether he believes in moral justice or absolute justice. He is fairly weak willed, as he easily fell under the control of the Shichiseiken. As Saga's subordinate, he holds the Marine in high regard and respects him.
Abilities and Powers
Edit
Bismarck is seen wielding a sword, it is believed he is skilled with it. Despite this, he was easily defeated by Sanji.
He also wears armor as a method of defense. The idea seems to work quite well, as Bismarck is protected from almost all damage. However, his face is left open, a fact Sanji used to his advantage.
The Cursed Holy Sword
Edit
Near the end of the movie, he was challenged and defeated by Sanji despite the fact that he was wearing armor over his body. Sanji instead aimed for his face which was the only part of him that wasn't covered in armor.
Major Battles
Edit
His name most likely comes from a German statesman known as Otto von Bismarck, Duke of Lauenburg.
References
Edit