Akisu is a character that appeared in the second movie.[1]
Appearance
Edit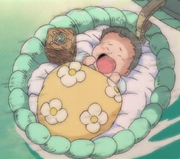 Akisu is a young boy with dark hair and two dimples below his eyes. He wears a white beanie and a pair of goggles around his neck, as well as a green coat and white shirt.[1]

Personality
Edit
He appears to have a caring personality, as he worked to save Borodo and decides to stay with him.[1]

Abilities and Powers
Edit
He has extensive knowledge about Clockwork Island, but other than that he does not have any notable powers.[1]
A long time ago Borodo found Akisu floating in the ocean when he was just a baby. They later formed the Thief Brothers, even though they are not brothers by blood.[1]
Clockwork Island Adventure
Edit
While looking for their stolen ship, the Straw Hat Pirates met the Thief Brothers.
When they reached Clockwork Island, it became apparent that this was Akisu's original home island. This was made more evident by Akisu's natural know-how of clockwork. Akisu managed to save Borodo after Bear King tried to kill him.
After the Trump Siblings were defeated, Akisu was reunited with his parents who revealed that they sent their child out to sea to avoid being ruled under the Trump Siblings. Despite this, Akisu decided to stay with Borodo.[1]
References
Edit
Straw Hat Pirates Allies
Non Canon Allies

One Shots

:
Silk  •  Ann and Balloon  •  Dragon Team  •  Toriko and his allies

Specials

:
Medaka, Herring, and Skid  •  Meroie and Hamu  •  Maccus, Bonney, Amanda, Milia, and Holy  •  Randolph Theater members  •  Toriko and his allies  •  Dragon Team  •  Diego and Regis  •  Foxy Pirates  •  Kinoconda  •  Myskina Olga, Myskina Acier, Elizabeth, and Chavez

Movies

:
Ganzo and Tobio  •  Akisu and Borodo  •  Mobambi and Karasuke  •  Adelle and Shuraiya Bascùd  •  Maya  •  Brief  •  Roba and Gonzo  •  Billy  •  Schneider and Buzz  •  Kuzan  •  Mobston and Gari  •  Z  •  Carina  •  Raise Max  •  Rikka

Filler Arcs

:
Apis and Ryu  •  Tajio  •  Kodama  •  Zenny Pirates  •  Pumpkin Pirates  •  Mekao and Kobato  •  Foxy, Porche, and Hamburg  •  Phoenix Pirates  •  Sayo, Lina, and Nukky  •  Yoko and Boss  •  Little East Blue residents  •  Panz Fry and Lily Enstomach  •  Sea Animal Pirates  •  Desire

Games

:
Dias  •  Popola  •  Gaburi  •  Pato  •  Yadoya

Events

:
Dragon Team and Astro Boy and his team  •  Dragon Team and Kankichi Ryotsu  •  Hakuto  •  Toratsugu