Ad blocker interference detected!
Wikia is a free-to-use site that makes money from advertising. We have a modified experience for viewers using ad blockers

Wikia is not accessible if you've made further modifications. Remove the custom ad blocker rule(s) and the page will load as expected.
Akisu is a character that appeared in the second movie.[1]
Appearance
Edit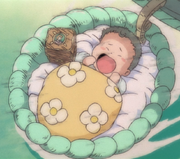 Akisu is a young boy with dark hair and two dimples below his eyes. He wears a white beanie and a pair of goggles around his neck, as well as a green coat and white shirt.[1]

Personality
Edit
He appears to have a caring personality, as he worked to save Borodo and decides to stay with him.[1]

Abilities and Powers
Edit
He has extensive knowledge about Clockwork Island, but other than that he does not have any notable powers.[1]
Clockwork Island Adventure
Edit
The Straw Hats met him and Borodo, who called themselves the Thief Brothers, however they are not brothers by blood. While they were looking for their stolen ship. A long time ago Borodo found Akisu floating in the ocean when he was just a baby. .[1]
When they reached Clockwork Island, it became apparent that this was Akisu's original home island. This was made more evident by Akisu's natural know-how of clockwork. Akisu managed to save Borodo after Bear King tried to kill him near the climax of the film.[1]
After the Trump Siblings got defeated, Akisu got reunited with his parents who revealed that they sent their child out to sea to avoid being ruled under the Trump Siblings. Despite this, Akisu decided to stay with Borodo.[1]
References
Edit