Ace's Great Blackbeard Search
Talk

0
3,897pages on
this wiki
Mini Arcs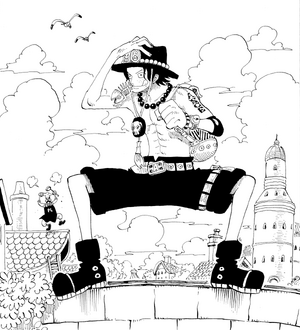 Ace's Great Blackbeard Search

Japanese Title:
エースの黒ひげ大捜査線
Romanized Title:
Ēsu no Kurohige Daisōsasen
Viz Title:
Ace's Great Blackbeard Search
Volumes:
29-32, 4 volumes
Manga Chapters:
272-305, 29 installments
Anime Episodes:
Year(s) Released:
2003-2004
Ace's Great Blackbeard Search is the sixth mini-series created as a side story on the title pages of each One Piece chapter.
Short Summary
Edit
During the course of his travels to find Blackbeard, Ace befriended the milk maiden Moda after she saved his life, and in return, he infiltrated the naval base G-2 to deliver a message to Vice Admiral Comil. During his undercover stint, he inadvertently helped reunite Moda with her parents, and acquired information on Blackbeard.
Although it was never animated, a reference to the arc can briefly be seen in the newspaper read by Crocus in Episode 381, which shows Moda with her family and Vice Admiral Comil drinking milk.
The story can be set between the events of Jaya Arc and the events of Post-Enies Lobby Arc.
Long Summary
Edit
On an island somewhere in the Grand Line, Ace runs away from a restaurant after eating without paying. When he reaches the dock, he stops to ask people for information on Blackbeard. However, his searching only leads him to find a man known as Dr. Black Beard. Not realizing that he has the wrong person, Ace punches Dr. Black Beard, which causes the angry villagers to throw him in the river.
After going downstream, Ace is rescued from the river by a girl named Moda. Moda takes the unconscious pirate to her house, where he wakes up. Ace and Moda officialy meet, and Moda has a favor for him. In exchange for some of her milk, Ace agrees to deliver a letter.
Ace goes to the G-2 Marine base, where the letter is supposed to be delivered. After taking a Marine uniform from an unfortunate man, Ace infiltrates the base, his first order of business being to help himself to food. However, he overhears a Marine talking about Whitebeard, and punches him. This causes the Marines to chase after him.
However, in a different part of the Marine base, a meeting is quickly turning sour because the coffee is extremely bitter, and even the commanding officer, Comil, hates it. Elsewhere, a marine scout ship approaches the base, and Ace sets it on fire in order to distract the Marines chasing him. The Marines are very worried because top-secret documents are on the scout ship, when one of them jumps into the conflagration. The Marine turns out to be Ace, who carrys a Marine and some documents out while still on fire. However, the Marines quickly deduce Ace's identity and chase him down again. However, before escaping, Ace hands Moda's letter to Comil, the intended recipient. Comil reads Moda's letter, which asks the Marines if they would like to buy her milk.

A Marine food ship stops by Moda's home to purchase her milk. It is revealed that the cooks on the ship are Moda's parents, and they happily embrace Moda. Due to now having her milk, the Marines' coffee tastes much better. Meanwhile, Ace sails off, having gotten information on Blackbeard from the Marine scout ship, and is now ready to take on the pirate.
Chapter Titles
Edit
Aftermath
Edit
Ace finally reaches Teach in the Post-Enies Lobby Arc, where they fight each other on Banaro Island, generating the Banaro Incident.